Find the very best Duo Trio Bands for Hire in Melbourne and Australia wide at Blue Planet Entertainment Agency
We pride ourselves with our well presented, reliable, on time, professional performers
Browse & hire duos & trios for corporate events, wedding ceremonies, private parties, and all events and functions in melbourne and Australia Wide.
Select an act to see and hear music videos, demos and song lists!!
Duo Trio Bands
Duo Trio Bands – Entertainment is an important part of any event held to celebrate a special occasion. It adds to the atmosphere by creating a celebratory and happy mood. Most party hosts choose to entertain guests with music. Therefore it is common to find a pre-selected playlist playing from an audio system or a DJ rock's the partying crowd  crowd. Whilst these entertainment options can add some fun to your event, they don't quite match to what a live duo trio band can offer. If you want to give your guests a memorable experience, a live performance is the way to go.
The presence of Duo Trio Bands puts your event a cut above the rest. Live music usually creates a much more engaging experience. The entertainers on stage not only pump out toe-tapping and hip-shaking tunes that encourage guests to hit the dance floor, they also entertain the crowd while they dance right in front of the audience. This leaves your guests with the hysterics of fun, laughter, and dance.
Duo's and Trio's with Vocals and Percussion
There are many types of live bands available these days, but if you are looking for a small group of singers and musicians to accommodate your tight budget or available venue space, then consider hiring duo trio bands.
As the names imply, duo trio bands typically comprises of two musicians whilst trio groups have up to three entertainers. Usually, each group has a lead singer or vocalist. The other members of the band play instruments, although they can also join in the singing in some parts of a song such as the chorus. The kind of instruments used will depend on the repertoire of a particular band.
Diverse Musical Groups
It is not always easy to find Duo Trio Bands that play your desired repertoire. Many entertainment groups diversify their style in different music genres. This may be anything from jazz, soul, and funk, to rock, old-school tunes, and contemporary rhythms. You can even find duos and trios that include some choreographed dances to their performances. Such bands can add the 'wow' factor to an event since they tend to encourage the audience to dance!
Depending on your location, you can find duets and 3-piece bands in almost every corner of the globe. In Australia for instance, there are lots of Duo Trio Bands of this size. While you can always get referrals for these bands and try to contact them directly to make bookings for an upcoming event, it is advisable to make such reservations with an entertainment agency. The reasons for this are plenty, among them being the fact that some bands might not be available when you need them plus you would not want to limit yourself to one choice just because your friend thinks a particular band put on a great show during his or her wedding.
Your Musical Taste
Events are not always the same and people have different tastes in music. Therefore, the style of music that a particular band plays might not be ideal for all occasions. This is the reason why one needs many options when looking for a duo or trio live band. The good thing with using an entertainment agency is that you will get to choose from a wide range of entertainers to hire for your upcoming event.
Blue Planet Entertainment has an extensive roaster of 2 and 3-piece bands that play throughout Australia as well as abroad. These bands can perform in a wide range of events such as weddings, corporate functions, parties, festivals, clubs parties, and so forth. Before hiring that sensational duet or triple band group that you envision in your mind, first get to know why these types of bands are worthy hiring.
Top Reasons to Hire a Duo or Trio Band
There are many benefits of hiring trio and duo live band entertainers. It can range from accommodating a small budget to having a group of entertainers that can fit at your chosen venue. Here are some of the main reasons why these types of bands would be worth hiring.
Cut Back on Entertainment Costs
Hiring a full 6-peiece band will cost you more than having two or three entertainers at your event. Some full bands can have as much as a dozen members. This entails the entire gamut of vocalists, drummer/percussionists, bassists, guitarists and keyboard players. Since every band member has to get their cut, a large group naturally costs more to hire. Their level of entertainment is also quite sophisticated and grand, which justifies the higher charges.
If you are on a tight budget, hiring Duo Trio Bands will help you save money. The costs will only go to a smaller group, hence the lower rates. That does not mean that the level of entertainment will also be bland. By taking time to find electric Duo Trio Bands that deliver great music, they can entertain your guests just as much as a full band would, especially if it is a small occasion.
Solve Limited Space Issues
Full music bands that have up to 10 or more entertainers usually require ample space to perform at a party. The last thing you want to experience is booking a large band that won't fit into your chosen venue. You need to consider choosing a spacious venue that can accommodate the complete ensemble of instruments of a full band. This may include saxophones, trumpets, trombones, guitars, keyboards, and percussion instruments like cymbals and drums. If you are organizing a small gathering, then a full band might not be suitable. They will either not fit at the small venue or their music might seem too loud, and not to mention their high booking fees.
In space-limited situations, duo trio bands make the ideal choice of entertainment. They can easily fit in cramped venues since only a few instruments are needed. In addition, duos can entertain guests fully during small events.
Handy Tips for Choosing the Perfect Duo or Trio Band
Once you have decided to hire a trio or duet to perform at an upcoming event, the hunt for the perfect band begins. Unless you have your sights set on a particular group of musicians, you might find yourself comparing several entertainers. Even if you have a favorite band that always makes you dance whenever one of their songs plays on the radio, you might discover great duos and trios that you never got the chance to know before by looking into different music bands. This is where Blue Planet Entertainment comes in. You can compare the wide range of 2 and 3-piece bands that this entertainment agency provides. As you go through those bios for different duets and trio live bands, here are a few things to keep in mind before making your final choice.
Sample the Music:
Music played at an event should complement the occasion. Whilst you want to hire a duet or 3-piece band, make sure to select entertainers that perform the kind of music that would be appropriate for your occasion. Ask yourself what kind of music you need for your event. Is it sweet melodies and lyrics to fill the air with romance during a wedding, or pumping beats for your club party that make everyone want to shake a leg on the dance floor? Ensure you sample the music or the Duo or Trio. Blue Planet Entertainment makes every effort to help you make an informed choice. They do this by not only offering bios for different entertainers, but also song lists and links to live show videos so that you can download and sample the music before hiring a live band.
Book in Advance:
A basic rule of thumb when it comes to booking live bands is making your plans early on. This includes booking bands in advance. The reason for this is that live bands have gigs all year round. If you want that famous duo to perform at your wedding or any other occasion, ensure that they are not booked when you intend to host your party by making reservations in advance.
Consider the band's performance repertoire:
Everyone has his or her own preferences in music, especially when it comes to choosing a live band. Perhaps you want a jazz trio to create a relaxed ambiance at a corporate gala or a 3-piece rock band that will make the crowd dance the night away during your private evening party at an upbeat club. In light of the different preferences that people have when it comes to choosing entertainment for an event, you have to consider the style of music a potential band offers. Moreover, some bands have a performance repertoire that is not limited to music alone. For instance, you can also find a trio band that knows how to dance. Going for such bands will most likely enhance the level of entertainment at your event.
Why Settle for Blue Planet Entertainment Duo and Trio Bands
If you are looking for an entertainment agency that will leave you spoilt for choice with their range of duet and 3-piece bands, then Blue Planet Entertainment is the place to be. This agency offers bands that perform in Melbourne and across Australia. The many types of 2 and 3 member bands you can find from this agency include:
Rock Trio Bands:
Is your event mostly going to have young crowds? Whether you are planning a high-school graduation party or celebrating an auspicious occasion with your young friends, Blue Planet Entertainment offers rock band trios and duets to meet your entertainment needs. A rock band can create that energetic atmosphere that appeals to youngsters and the young at heart.
Female Trio Bands:
Do you want to fill the air with mellifluous tunes during your event? Well, nothing can match that than the sweet sound of talented female singer. You can achieve just that with a three 3-piece girl band, or if you prefer, you can go for duets and trios that have a lady as the lead singer. Blue Parent Entertainment has such band  choices to suit your needs.
Old School Bands:
Are you hosting an old-school themed party? If so, why not let some all time classic jams from way back take your guests down memory lane. You can do just that with a 50s, 60s, 70s, or 80s duo band. Whether you want to relive the disco fever era or old-time rock tunes, Blue Planet Entertainment can help you find bands that offer such kind of entertainment.
Contemporary Music Bands:
Are you planning a modern party? Blue Planet Entertainment can help you find duo and 3-piece bands that specialize in contemporary music, be it R n B, funk or pop.
Keep in mind that many bands play versatile music. This means that you can get so much more from Blue Planet Entertainment trio and duet bands besides those mentioned above. Take time to read the different descriptions for duo and trio live bands on our webpage and you can be sure of finding the ideal band you are looking for.
Simply increasing your options:
Blue Planet Entertainment offers a lot more than simply increasing your options for live bands. The company can organize PA systems, microphones, lighting, and staging equipment during your event. While you can hire close family member or friend to take care of these arrangements, why make one of your guests miss on the enjoyment of the day? The professional event planning services from Blue Planet Entertainment allow everyone to have a great time besides taking the strain of organizing all entertainment issues from your shoulders.
Organizing a successful event:
This company knows that organizing a successful event is dependent on the type of equipment you use to entertain or even address guests. As such, Blue Planet Entertainment only uses state of the art audiovisual equipment. They can transform the stage where your duo trio band will be performing into a magically lit setting equipped with high quality audio equipment. There are also technicians at hand to mitigate unforeseen technical difficulties or solve any problems that might interfere with entertainment during celebratory functions.
Duo and Trio Bands for Hire in Melbourne – options for your event
Blue Planet Entertainment have a fantastic range of Duos & Trios that will set the tone for your event and deliver an entertaining, engaging and memorable performance.If you are looking for an Acoustic Duo or Trio, a Jazz Duo or Trio, a Wedding Duo or Trio you are in the right place.
Blue Planet Entertainments professional approach to each inquiry means that you get that best service possible. We work with you to make sure you engage the perfect Duo or Trio to suit your experience and budget
Through the excellent service we provide, Blue Planet Entertainment are working with some 'Great Australian' companies on an ongoing basis.
Call us on 0418 364 728 to discuss Acoustic Entertainment for your next event!!
Check out more great entertainment options at Blue Planet Entertainment TV!!
Summary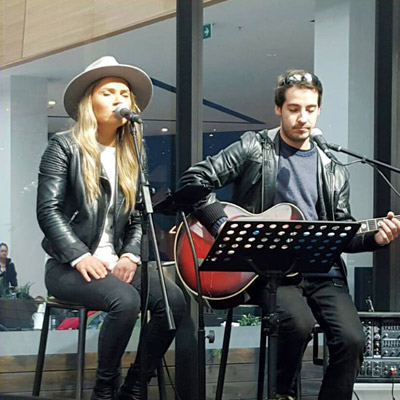 Service Type
Provider Name
Blue Planet Entertainment
,
Level 10, 440 Collins Street
,
Melbourne
,
Victoria
-
3000
,
Telephone No.0418 364 728
Area
Description
Blue Planet Entertainment offer the very Best Duo's and Trio's in Melbourne and Australia Wide