Blue Planet Entertainment offers the best cover bands for hire in Melbourne, Sydney, Brisbane and Australia-Wide.
Entertainment will be one of the most important investments you make in your function planning – it can either make or break an event. When you source Cover Bands for Hire from Blue Planet Entertainment, you have the peace of mind that comes with knowing it has been carefully screened in real working conditions performing at weddings, corporate events and private functions of all kinds.
The incredible caliber of talent you will find in our Cover Bands for Hire truly sets us apart from the pack, as only the very best performers that have received our exclusive 'Proven Performer' tick of approval make it onto the Blue Planet books.
From retro 50's numbers through to the latest pop hits, our cover bands for hire encompass a wide range of musical styles and sounds. Whether you're after a tribute band, rock band, funk band, jazz band, big band or a classic cover band who can do it all – we've got you covered.
To find out more – including how we can complement cover bands for hire with our other entertainment services – just get in touch!
Cover Bands for Hire in Melbourne and Interstate
Have you ever found yourself at the organising end of a party or function? If the answer is yes, then you probably know that it's both fun and stressful at the same time. Being a guest is so much easier; you simply show up and have a great time. But as the host or organiser you have to come up with a guest list, find a great venue, coordinate the décor, create a great menu and select entertainment that the guests will enjoy.
Whilst many people worldwide have mastered the art of successfully organising a party, most of them tend to come up blank when it comes to the entertainment component. You may personally have impeccable taste in music and have a wide collection of famous international artists, but there's no way those performers will drop everything and come to your party to do a live performance, and just listening to recordings of their music just won't do. So what do you do? Relax; there's no need to worry as you can still have great live performances with cover bands for hire.
Great Music
This option gives us the pleasure of listening to great music in a live performance at very affordable prices. The beauty of it is that these musicians can play a wide array of styles ranging from jazz, to rock, to blues, and even classical music. Therefore you are guaranteed of finding a talented cover band for hire that plays stuff you and your guests will love. So the next time you host a party, give your guests the ultimate treat of a cover band to entertain them, and your party will be the talk of the year.
There are many such cover bands for hire in Australia, therefore choosing can be a little tricky. However, Blue Planet Entertainment makes the selection process quicker and easier, as we have already vetted cover bands in Melbourne for you. Our selection is available to view on our website – just click on an image to find out more about the combo pictured.
What are Cover Bands?
The world of music is as lucrative as it is diverse. Aspiring musicians have the option of choosing what style of music to perform. Aside from that they also have the option of going solo or becoming part of a group. Those who choose the latter have several career paths to follow in the industry. They may choose to perform original material, or hire a manager to out-source material from external songwriters. There are also groups who choose to perform the material of already established bands. These are known as cover bands.
These musicians usually perform renditions of songs from popular music stars, however they do not produce a note-by-note duplication. They are mostly found in bars and nightclubs where they're hired to attract and retain customers. Continuous performances give them the opportunity of gaining recognition in the music industry. A good number of professional and famous singers began their career in this way, where they were able to practice and enhance their talent. A good example is the popular British rock group the Beatles, who are recognized worldwide and loved by millions of rock fans. What many people don't know is that the Beatles kicked off their career working as a cover bands for hire in local German bars and nightclubs. Today such cover bands are hired to perform at functions such as weddings, birthdays, corporate events, and local festivals.
Starting Your Own Cover Band
When looking to create your very own cover group the first step is to find members. You want to put together a group of talented individuals who share the same interests and passions. Potential members can be found among friends, local musicians, or through searching the internet.
Once members have been selected, the next step is settling on what style of music you would like to play, and from which era. This requires the unanimous agreement of all the chosen members.
Regular individual and collective practice is the key to becoming a tight, productive and hopefully famous unit. Continuous practice and performance creates a cohesive team of talented musicians which provides great entertainment value as well as highly developed musical skills.
Once the group has been formed, it takes a lot of hard work and determination for them to become performance worthy. Newly formed groups should try and book as many gigs as possible, as that leads to maximum exposure. With this exposure comes recognition and an opportunity of making it to the list of best cover bands for hire in Melbourne.
How To Choose The Best Cover Group
Hiring a cover group for any kind of event is a great way to rock up a party and break from the normal monotony of a DJ or personal music collection. The very first thing to consider when choosing is the theme of the function. For instance you may have a 1980s themed party where the set-up, décor, and dress code are based on the theme. This should also be reflected by the entertainment; therefore you should choose a band that specialises in 80s music. For example, if you're planning a 80s themed wedding, then Blue Planet Entertainment is the entertainment company to turn to for band hire – here you will find 80s cover bands in Melbourne who are very good at what they do.
Audience Demographic
The music you choose should be based on the demographics of the guest list. When you choose a cover group for your party, make sure they are able to perform songs that the guests are familiar with, appropriate to their age and music taste. For example, it would be a complete clash if you hired a heavy metal or punk music for your grandmother's 100th birthday celebrations.
Before choosing a cover band for hire in Melbourne make sure they are talented. Look into their past performances and seek out reviews. You can also ask them to do an audition for you. In this way you will be able to appreciate their performance first-hand before hiring them.
Corporate Events in Melbourne
As you are choosing a cover band for your Melbourne function, make sure you select professionals band rather than the local garage band. Though the locals might have raw talent and may even one day become famous, hiring them for your party is not advisable as they lack the formal training that would make them sought-after professionals. It is vital to go for musicians that have a high level of professionalism, talent and skill as they will not leave you disappointed.
For instance professional cover groups have "stand in's", individuals who can be called upon to take the place of a member who can't attend due to unavoidable circumstances. These individuals have trained with the other players and are therefore familiar with their repertoire and performance. This means they are capable of delivering a great performance even when called upon at the last minute.
One question to consider in choosing a bandfor your function is its ability to handle song requests by the audience. Cover groups usually present potential clients with a list of the songs they can play. Most have some flexibility to accommodate requested songs, but it would be somewhat unreasonable to ask for a specific song that may be out of character for them, or to expect them to learn and perform that song while they are at the function.
Blue Planet Entertainment's website is a reliable place where you are guaranteed to find the best cover groups. We can help you find great cover bands for hire that are at the top of the most-talented list in Melbourne and Australia.
Advantages Of Cover Bands For Hire
There are several available options for people looking for a cover group to enhance their event. First on the list is the 1950's cover group. These bands capture the spirit of the golden era where RnB, classic rock & roll, jazz, swing, and blues were huge.
1960's cover performers are capable of providing songs that take people back to the days of the proverbial 60s British invasion, flower power and the upheaval of society at the time. The famous genres of those days include folk, psychedelic, surf, soul, funk, pop, blues, roots, garage, and progressive rock. Cover groups who specialise in the 60s rock tend to play all the mix of rock genres of those days.
The 1970s Disco era were the years when people loved to dance and frequented all the famous discotheques. Cover players that specialise in this era mainly play rock, pop, reggae, and the country music of this period.
1980's was the decade when fashion sense went completely crazy and the in-thing was BIG: big hair, big shoulder pads, baggy jeans and pastel-coloured clothes. Those years also saw the emergence of dance music, new wave, and hard rock. Cover bands that specialise in this decade play songs of famous bands such as Metallica, U2, and Bon Jovi.
Hip Hop and Rap Music
The 1990's saw the entry of hip hop and rap into the music mainstream. Other genres of songs that were also a hit in the 90s include rock, pop, and RnB. 90s cover groups take you back to those days by performing renditions of songs from this decade's famous bands which include, The Spice Girls, Backstreet Boys, and Boyz 2 Men.
Finally there are cover groups who focus on songs that made it to the various music charts of the olden days, the big band and swing. These are known as the 40's cover groups.
Why You Should Choose Blue Planet Entertainment
Blue Planet Entertainment has many years of experience in the industry and has perfected the art of making a function or party come to life with the infusion of live covers music. This has enabled Blue Planet to understand and appreciate the needs and concerns of their clients and thus provide a very personalised service. In addition, we also pride ourselves in exceeding our client's expectations.
When you enlist Blue Planet Entertainment you simply tell us the kind of music you want and the company will do the rest. Do you want to get the party pumping with contemporary chart hits? Then top 40 cover bands will arrive at your function. Does your guest list consist of young people who are into 90s music? Blue planet entertainment provides you with 90s cover bands for hire in Melbourne.
The advantage of enlisting Blue Planet Entertainment as the agency to provide your party with great music is that you are guaranteed highly talented musicians. All cover bands recommended by Blue Planet Entertainment have been carefully screened to ensure they are the most skilled and professional. Your function will definitely be a superb experience, enhanced by the very talented bands for hire provided by Blue Planet Entertainment.
More great entertainment options for your event!
Blue Planet Entertainment have a fantastic range of Corporate Event Entertainment and Wedding Entertainers that will set the tone for your event and deliver an entertaining, engaging and memorable performance. If you are looking for a Solo Artist, an Acoustic Duo or Trio, a Cover band, a Jazz Band, a Wedding Band or Entertainment for your Corporate Event, you are in the right place.
Blue Planet Entertainments professional approach to each inquiry means that you get that best service possible. We work with you to make sure you engage the perfect Entertainment to suit your experience and budget
Through the excellent service we provide, Blue Planet Entertainment are working with some 'Great Australian' companies on an ongoing basis.
Call us on 0418 364 728 to discuss Entertainment Options for your next event!!
Check out more great LIVE entertainment at Blue Planet Entertainment TV!!
Summary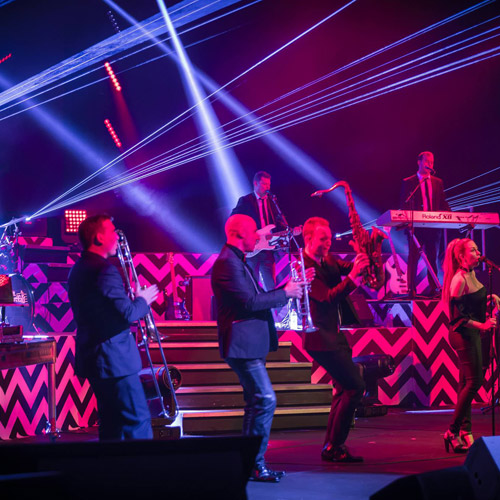 Service Type
Provider Name
Blue Planet Entertainment
,
Level 10, 440 Collins Street
,
Melbourne
,
Victoria
-
3000
,
Telephone No.0418 364 728
Area
Description
Blue Planet Entertainment offers the best cover bands for hire in Melbourne for Corporate Event Entertainment and Wedding Music