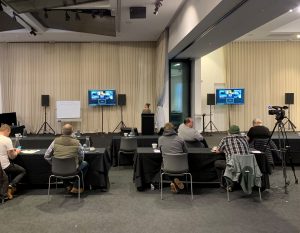 Virtual Events … and Hybrid Events have been around the event conferencing and meeting sector for some time now but the industry has been slow to fully adopt them
With the outbreak of the corona-virus and shutdowns both locally, interstate and  around the world, Virtual Conferencing, Virtual Meetings and Hybrid Events have clearly become the way forward and we don't look like turning that back in the foreseeable future. Moving to virtual and Hybrid events has now been supercharged out of necessity to keep business moving
Audio Visual hire equipment includes:
Premium quality audio systems
Event lighting
Stages
Video & data projectors, LCD screens, touch screens, LED walls
Vision mixers, content switchers, HD cameras
Event staging and draping
Event rigging
Computers and IT equipment
Blue Planet Events provide Conference Audio Visual systems, we are committed to delivering tailored hire solutions that meet your specific requirements. We take the time to get to know you, identify your needs, and understand the nature of your event, allowing us to provide a variety of audio visual solutions to ensure that the event runs smoothly and successfully.
Audio Visual Hire for your conference or event!
Blue Planet Entertainment provide Audio Systems, Lighting, Staging, Projectors and Screens Draping and all Technical requirements for your Corporate Event or Conference. Our professional approach to each inquiry means that you get a tailored audio-visual experience that meets your specific requirements and Budget, ensuring your event runs smoothly and successfully
Through the excellent service we provide, Blue Planet Entertainment are working with some 'Great Australian' companies on an ongoing basis.
Call us on 0418 364 728 to discuss Audio Visual Options for your next Conference or Event
Blue Planet Entertainment also provide the Best Keynote Speakers and Live Entertainers
Check out some great LIVE entertainers at Blue Planet Entertainment TV!!