Wedding Bands Melbourne and Australia Wide
Blue Planet Entertainment has more than 30 years of experience in wedding band hire services in Melbourne. We can also cater for interstate and overseas events. Our talented wedding entertainment musicians encompass a whole range of musical styles and sounds. From classical music and retro hits through to the latest pop releases, there's 70s disco, 80s classics, rock, funk, big band, jazz, and much more to choose from, and of course, we have wedding bands that can do it all.
Whether you're looking for acoustic music for a your wedding ceremony and canapes or a bigger wedding band for your wedding reception or a DJ to take you through to the wee hours – we've got you covered.
Only the very best artists make it onto the Blue Planet books. Our performers are consummate pros with a wealth of experience – many performing at major events, on live TV, and alongside industry luminaries. In addition, all have been screened in true working conditions and received our own 'Proven Performer' tick of approval.
For more information on hiring our wedding bands and acoustic wedding musicians in Melbourne, interstate or internationally, please don't hesitate to contact us
Wedding Bands in Melbourne
When planning your wedding, you will spend a lot of time looking for an ideal venue, a stunning gown, beautiful floral arrangements, and tasteful décor. The same amount of time and effort used to plan the event should also be applied to the entertainment aspect of the ceremony and reception. Don't forget a beautiful marriage ceremony followed by a fun-filled reception party constitutes the perfect wedding day, and that is what all couples want for their special day. Besides, if you're planning to hold a memorable event, you will have to choose the very best of entertainment options that are available.
Live music is arguably one of the best wedding entertainment choices if you want to treat your guests to an amazing and unforgettable time. Nothing beats the experience of  live Wedding Bands performing energetic dance tunes. If you think about it, music is one of the most important things in a wedding. Starting from the ceremony to the reception party, music sets the atmosphere. Therefore, going with the wedding bands option for your Melbourne ceremony will create a great atmosphere, one that your guests will really enjoy. Hiring a live band will turn your celebration into the talk of the town and will set a high precedent that future parties will try to achieve.
How To Choose Wedding Bands
Choosing one among the many wedding bands available can be difficult. There are several factors that need to be considered when looking for a wedding band. Below are some helpful tips on how to be successful:
Book through an entertainment agency: Entertainment companies are a good place to start when looking for live performers. These companies work closely with different types of entertainers and therefore know who is best suited to what kind of event. They also care about their reputation. Therefore, these firms will only send a talented wedding band to your Melbourne event. With Blue Planet Entertainment, you won't have to spend a lot of time looking as we have various options on offer.
Do research: Even if you find a wedding band through a reputable entertainment agency, it's important to do your research and find out about the rating or reputation of performers in the entertainment industry. Unless you have already made up your mind on a particular band, then you will have to compare several entertainment groups. This might also be necessary if your first choice is already booked. A good place to start your research is on the internet as any professional band will invest in a website or facebook page.
Determine the songs you want: Looking for a wedding band without first determining the types of music you want makes the process more difficult. Many groups play a variety of songs which may confuse the issue and make a decision harder. Choosing the music types you want is very simple. Just consider the tastes of your guests, your own favourites, and the theme of the party then strike the right balance. If you have a list of songs you would like to hear during your special day, choosing a wedding band becomes a bit easier.
Go for experience: Practice makes perfect, therefore an experienced band is likely to be great at what it does. One that has performed for many weddings is usually prepared for anything and will adapt faster to any changes in the ceremony schedule or unavailability of a band member. If you make last minute changes in the song list an experienced band will be able to adapt.
Consider professionalism: Since your wedding is one of the biggest days of your life, you should go for a seasoned wedding band that will not treat your celebration as just 'another gig'. Professional band will give your marriage the respect it deserves and will ensure that guests are fully entertained.
Things To Avoid When Hiring A Wedding Band for Your Melbourne Ceremony
Hiring a band can instantly transform your special day into a classy event where your guests will have tons of fun. However, it could turn out to be a disaster if you make the wrong choice. Keep in mind that your wedding day only happens once, therefore you won't get a chance to rectify any mistakes. Below are some things you must avoid when hiring a band for your wedding.
Hastiness: When hiring a band, it's important to avoid being too hasty – don't settle for the first group you come across. It's wise to look into several options before making your decision. That is the only way to be a hundred percent sure that you'll end up with the most ideal live music for your event.
Don't procrastinate: Once you are sure you have found the perfect choice don't be too slow to book them. Good groups get bookings all the time and if you delay you may end up losing them to someone else.
Don't ignore your budget: Most couples set a budget in advance for every aspect of the party, as this helps to avoid splurging. Make sure you set aside a reasonable amount for entertainment because great wedding bands can be costly. Keep in mind that you only get one chance to experience your ceremony, therefore you shouldn't spare any expenses.
Location: When hiring a wedding band it's important to select one that's close to your event location. If you live in Melbourne, then you should hire musicians recommended by local residents rather than entertainers from outside the country. Hiring a famous wedding band from abroad may seem trendy, but it comes with several disadvantages. For instance, one of the band members might arrive late or worse, the entire crew may be unable to make it to the party due to bad weather. This will leave you stuck with no entertainment. It doesn't matter how great your entertainers are, if they're too far from the venue you should take them out of your options. However, if you still insist on a foreign wedding band, you could have them come in advance… but this will require greater expenses in transportation and accommodation fees for the band members.
Advantages Of Hiring A Wedding Band for your Melbourne Event
Since the music played during your wedding permeates the entire event, it can be said that it forms the backbone. Regardless of how breathtaking the venue is or how delicious the food, if the music is boring guests won't fully enjoy the occasion. With live performers, guests will have the time of their lives and won't notice minor mishaps. Below are the benefits that come with hiring a great band for your ceremony.
Host a sophisticated event: Regardless of the size of your wedding, live music immediately brings up the level of sophistication.
A constant fun and exciting ambience: There is nothing that compares or even comes close to live music during a wedding. Bands create a fun ambience that gets guests energized and excited to dance. And this ambience is maintained throughout the duration of the event.
Interaction: The entertainment is very interactive with a band present, rather than just hitting the play button. The musicians will mingle with the crowd while singing and will even allow a few of the guests to join in. This adds to the ambience and increases excitement. This ensures that your guests will have a great time at your party.
Good sound quality: The beautiful singing voice of a professional singer coupled with the expert playing of live musical instruments results in an amazing sound quality that cannot compared to recorded music. As well, quality speakers set up across the venue ensure that every single guest gets to enjoy good sound regardless of the event size.
Complementing the event's theme: A great band will mimic the party theme to complete the experience, starting from the dress code down to the type of music being played. For instance, if the wedding is 80s themed, the band members will dress accordingly and play hit songs from the era.
Why Choose Blue Planet Entertainment for your Wedding Band Hire in Melbourne
A wedding band cannot stay on its feet performing song after song throughout the entire ceremony and reception. Most bands will take a 10 to 20 minute break every hour. This enables band members to reboot so they can continue to deliver great entertainment for your guests. With Blue Planet Entertainment, you have the option of hiring a DJ to take over during the break to ensure your party does not have a single dull moment.
Our company has a variety of bands that play all sorts of music genres from different eras. Whether you want rock music, jazz, blues, or 70s hits, we'll have a band that will give you exactly what you want.
The Blue Planet Entertainment Wedding Band Difference
Although there are many wedding bands in Melbourne, you can have the peace of mind knowing that each one from Blue Planet Entertainment has passed our high-level performance standards. Therefore, you can just sit back, relax, and enjoy the great tunes that your chosen wedding band will play.
Blue Planet's live music performers aim to completely satisfy the wishes of the bride and groom. Just state the mood you want and the type of songs you would like played and the wedding band will go out of its way to ensure they achieve all of your expectations and make your special day more special.
Blue Planet Entertainment has been providing good quality entertainment services for many successful years, putting the company on a class of its own. All services we offer are unmatched due to our ability to fully customize. Therefore, you can be sure that a Blue Planet Entertainment band will deliver services that are perfect for you, from your chosen playlist down to guest requests. You can even ask them to play a certain song during a specific moment of the ceremony.
Most entertainment companies limit their services to people within their locality. However, that's not the case with Blue Planet Entertainment. One of the key things that make our entertainment agency different from the rest is that it services all states of Australia as well as international locations.
More great entertainment options for your Wedding or Event!
Blue Planet Entertainment have a fantastic range of Musicians, DJ's and Wedding Entertainers that will set the tone for your event and deliver an entertaining, engaging and memorable performance. If you are looking for an Acoustic Duo or Trio, a Cover band, a Jazz Band, a Wedding Band or Entertainment for your Corporate Event, you are in the right place.
Blue Planet Entertainments professional approach to each inquiry means that you get that best service possible. We work with you to make sure you engage the perfect Entertainment to suit your experience and budget
Through the excellent service we provide, Blue Planet Entertainment are working with some 'Great Australian' companies on an ongoing basis.
Call us on 0418 364 728 to discuss Entertainment Options for your next event!!
Check out more great LIVE entertainment at Blue Planet Entertainment TV!!
Summary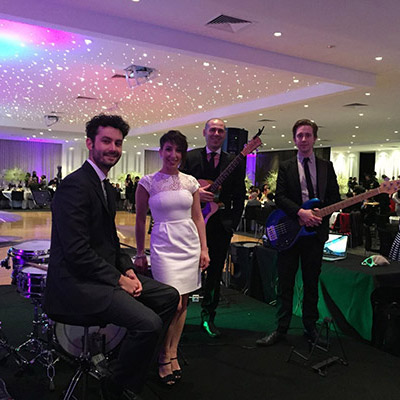 Service Type
Wedding Band Hire Melbourne
Provider Name
Blue Planet Entertainment
,
Level 10, 440 Collins Street
,
Melbourne
,
Victoria
-
3000
,
Telephone No.0418 364 728
Area
Description
Blue Planet Entertainment provide Wedding Music for Wedding Receptions and Wedding Ceremonies in Melbourne. Sydney and Brisbane