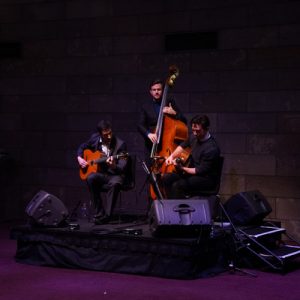 Melbourne Gypsy Swing Project
….contains up to 4 great jazz musicians that are all fixtures on the Melbourne Jazz scene.
Whether it be traditional New Orleans; French or bebop, they are more than likely playing jazz right now somewhere in Melbourne. Maybe even somewhere else
like Paris, New York, New Orleans, L.A, New Caledonia, Broome or even Wallan. It's a real possibility. It's happened before. It'll happen again.
This is because Melbourne Gypsy Swing Project are no holds barred musicians like the old days. The days when being a musician meant looking people in the eye, wearing trousers
and moving out of home. The days when your word meant something and travelling somewhere for three days didn't mean 'doing it' even if you did just eat street food.
Certificates? Sam (guitarist and band leader) Has got 'em. Bachelor? You bet-ch-u-lor. But who doesn't have a bachelor degree these days? Sam hasn't just 'done music' at Melbourne Uni. He's doing it. Right now. Playing music that is. He finished the bachelor years ago.
Professionalism. Expecting the best from himself and fellow Melbourne Gypsy Swing Project musicians. This is no part time jazz group. Boy, do they have fun playing music?! Absolutely. All day. Everyday…and night. But they don't call themselves professional musicians for nothing. No Sir! There's money involved. Always. 'Applause is nice but it don't buy no beans or rice' as they say in the Big Easy.
Melbourne Gypsy Swing Project
Experience is what counts in the end. And that's priceless. Well not exactly. We've priced it. It's very reasonable!
Do you know what Melbourne Gypsy Swing Project and race horses have in common? Absolutely nothing. They're much more expensive. And horses can't play guitar.
No opposable thumbs. Horses can't even read music, not. even. Mr. Ed. You see where we're going with this.
Mr Ed, is not who you want to hire. Melbourne Gypsy Swing Project is!!
Have a look at Melbourne Gypsy Jazz Project LIVE!!
Have a listen to their Demo's!
Melbourne Gypsy Swing Project
After you've gone
Aint misbehavin'
Alors?…voila!
Anniversary song
Anouman
Appel indirect
Are you in the mood
Artillerie lourde
Avalon
Babik
READ MORE...READ LESS
Bei mir bist du schon
Belleville
Black and white
Blue drag
Blues en mineur
Blues for Ike
Blue skies
Body and soul
Bossa Dorado
Brazil
Caravan
Cavalerie
C'est si bon
Charleston
Chez Jacquet
Chicago
China boy
Chinatown, my Chinatown
Clair de lune
Confessin'
Continental
Coquette
Crazy rhythm
Crépuscule
Danse Norvégienne
Daphné
Dark eyes
Destinée
Diminishing
Dinah
Dinette

Melbourne Gypsy Swing Project
Djangology
Django's tiger
Douce ambiance
Eel's nephew
Embraceable you
Exactly like you
Festival 48
Fleur d'Ennui
For Sephora
Frolic
READ MORE...READ LESS
Good old days
Gypsy dreams
Gypsy fire
H.C.Q. strut
Honeysuckle rose
Hungaria
I can't believe that you're in love with me
I can't give you anything but love
If I had you
lf l only had a brain
I'll never be the same
I'll see you in my dreams
I'm forever blowing bubbles Indifference
lnsensiblement
I saw stars
I surrender, dear
It don't mean a thing if it ain't got swing
It had to be you
It's only a paper moon
I've found a new baby
I've got my love to keep me warm
I wanna be loved by you
I wonder where my baby is tonight
I won't dance
Japanese sandman
J'attendrai
Jeepers creepers
Jitterbug waltz
Joseph, Joseph
Just one for Babik
Just one of those things

Melbourne Gypsy Swing Project
Keepin' out of mischief now
La camarde
Lady, be good
La folle
La foule
La javanaise
La mer
La vie en rose
Les feuilles mortes
Limehouse blues
READ MORE...READ LESS
Shine
Little white lies
Sing, sing sing
Love me tender
Si tu savais
Lover man
Smile
Lulu swing Somebody loves me
Manah manah
Someone's rocking my dreamboat
Man i love
Somewhere over the rainbow
Songe d'Automne
Sous le ciel de Paris
Manoir de mes réves
Ma premiere guitare
Marie
Spivy
Melodie au Crepuscule
Stompin' at Decca
Menilmontant
Stranger in paradise
Stumbling
Midnight in Moscow
Svetlana
Milko
Sweet Georgia Brown
Mimosa
Sweet Sue
Minor Swing
Swing 39

Melbourne Gypsy Swing Project
Mister Sandman
Swing 42
Mon Dieu
Swing 48
Montagne Ste-Genevieve
Swing de Paris
Swing Gitan
My blue heaven
Swing guitars
My melancholy baby
READ MORE...READ LESS
Swing rhumba
Mystérieuse
Swingtime in springtime
Ne me quitte pas
Swing valse
Night and day
Syracuse
Noto swing
Nuages
Nuits de Ste-Germain des Prés
The there eyes
Oriental shuffle
Ou es-tu, mon amour?
Third Man theme
Out of nowhere
Topsy
Passion
Troublant bolero
Twilight in Turkey
Two cigarettes in the dark
Pennies from heaven
Petite fleur
Que reste-t-il de nos amours?
Rose room ,
Vous et moi
Rosetta
Vous qui passez sans me voir
Russian lullaby
When day is done
R vingt-six
September song
Whispering

More great entertainment options for your event!
Blue Planet Entertainment have a fantastic range of Corporate Event Entertainment and Wedding Entertainers that will set the tone for your event and deliver an entertaining, engaging and memorable performance.If you are looking for a solo artist, a Cover band, a Jazz Band, a Wedding Band or Entertainment for your Corporate Event, you are in the right place.
Blue Planet Entertainments professional approach to each inquiry means that you get that best service possible. We work with you to make sure you engage the perfect Entertainment  to suit your experience and budget
Through the excellent service we provide, Blue Planet Entertainment are working with some 'Great Australian' companies on an ongoing basis.
Call us on 1300 738 735 to discuss Entertainment Options for your next event!!
Check out more great entertainment options at Blue Planet Entertainment TV!!
Summary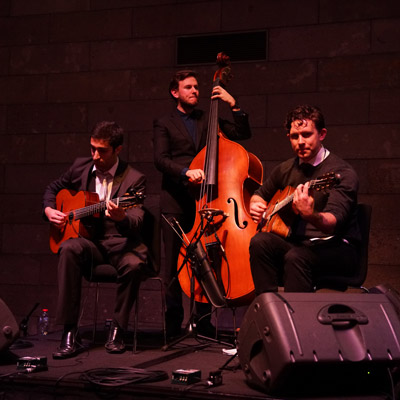 Service Type
Melbourne Gypsy Swing Project Jazz Band Hire
Provider Name
Blue Planet Entertainment
,
Level 10, 440 Collins Street
,
Melbourne
,
Victoria
-
3000
,
Telephone No.1300 738 735
Area
Melbourne, Sydney, Brisbane
Description
Melbourne Gypsy Swing Project contains up to 4 great jazz musicians that are all fixtures on the Melbourne Jazz scene. and available for Corporate Events as well as Weddings, Pubs and Clubs