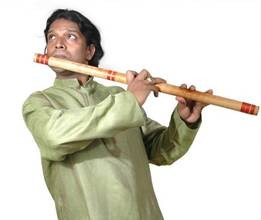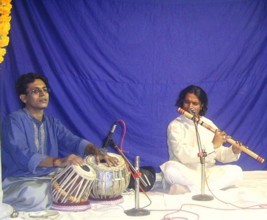 Vinod Prasanna was born into one of India's greatest flute-playing families, award-winning bansuri (flute)  and shines as an outstanding performer of authentic traditional and contemporary Indian music, and as heir to the musical treasure of his ancestors. Vinod Prasanna commands the stage with grace and tenacity, via captivating passion, technical brilliance and a wonderful performance style. Vinod's sublime flute song takes the listener on deeply moving journeys, both musical and spiritual; wherever he plays, he captures the hearts of his audiences with emotive melodies, exquisitely improvised rhythms and stirring beauty. Simply, Indian music at it finest.
From the royal courts of old to the modern music stage, the Prasanna family has performed for more then two-and-a-half centuries.
Vinod Prasanna
….continues this legacy. Hailing from Varanasi, regarded as one of India's holiest cities, Vinod's late grandfather Pandit Vishnu Prasanna introduced him to the bansuri, and more recently, Vinod's uncle – acclaimed musician Pandit Rajendra Prasanna – taught him and further inspired his playing.
Vinod's latest musical project's include:
Recording his latest CD with Glen Kniebeiss (Tabla), "Samay"- an exquisite recording of Indian Ragas for the different times of day. CD launch date to be announced.
Becoming a member of "INTERACT"- an amazing intercultural music ensemble, that performed on Australia Day at Federation Square, Melbourne.
Recent musical collaborations and recordings with renowned musicians David Jones (Percussionist) and Evripedes Evripediou (Guitar). Get ready for upcoming concerts!
Vinod has performed and toured extensively throughout his homeland and overseas. Performances include the Folk Dance Festival in Delhi in 2005; Bhagavad Gita recitals; performances at Varanasi's famous Benares Hindu University in 2009; and tours through north and south Indian regions, during which he established his fusion band Shiva Ganga Express. Vinod was featured in the French documentary Odyssey in 2003; toured Japan in 2006, sponsored by the Yamaha Music Company; and in 2007, made a musical and cultural visit to Germany, hosted by the International Arts School in Munich. In 2006, Vinod also won the prestigious Sahara All-India Flute Competition.
Based in Australia since 2008, Vinod is recognised as an unrivalled Bansuri master, living, performing, teaching and recording in Melbourne. Together with brilliant Australian Tabla player Glen Kniebeiss, Vinod stunned audiences at the Bellingen Global Carnival in 2008, in 2009 during Music for Meditation at BMW Edge in Melbourne's Federation Square, and at the Fairfield Amphitheatre Summer Concert Series. Vinod was also part of the inaugural celebrations for the 2009 opening of the Parliament of the World's Religions, and performed with Dya Singh at the Premier's 2009 Sustainability Awards, and at The Melbourne Arts Centre for the Multicultural Arts Council, Victoria. In 2009, Vinod's music was also featured on the soundtrack to Australian film The Taj. In 2010, Vinod's music was enjoyed by thousands at the Woodford Folk Festival, performed with Glen Kniebeiss.
When in India, Vinod Prasanna performs and teaches in his home-city of Varanasi, and has performed throughout India in Delhi (including Folkdance Festival), Himachal, Mirjapur and Bihar. He has also played music in religious programs, including Bhagavad Gita recitals and Sri Hare Krishna Mission ceremonies and Vinod has performed throughout Nepal, France, Japan, Germany and now, Australia.
Vinod Prasanna's style takes the listener on a musical and spiritual journey, and on listening to his emotive Ragas audiences are often deeply moved by his authenticity and the stirring beauty of such music
Influences include:
Vinod Prasanna's late grandfather, Pandit Vishnu Prasanna, introduced him to the art of flute (bansuri) playing. In more recent years, Vinod's uncle and acclaimed musician Pandit Rajendra Prasanna has taught and inspired his playing. Vinod's vocal style of performance on Bansuri has been inspired by vocal masters Pandit Pashupatinath and Pandit Chanulal Mishra.
Recordings:
"Samay"- recorded with Glen Kniebeiss in 2010. This is an exquisite collection of ragas for the different times of day.
In 2008 Vinod recorded his CD "Evening Thoughts", with Parvez Hussain on Tabla and "Raag Hemawati", a live performance recorded at Shakit Hall, Dharamsala
In 2006 Vinod was recorded and featured in French documentary "Odyssey"
In 2005 Vinod recorded his first solo CD "Evening Melody" with Rabin Lal Srestha on tabladance.
More great entertainment options for your event!
Blue Planet Entertainment have a fantastic range of Corporate Event Entertainment and Wedding Entertainers that will set the tone for your event and deliver an entertaining, engaging and memorable performance.If you are looking for a solo artist, a Cover band, a Jazz Band, a Wedding Band or Entertainment for your Corporate Event, you are in the right place.
Blue Planet Entertainments professional approach to each inquiry means that you get that best service possible. We work with you to make sure you engage the perfect Entertainment to suit your experience and budget
Through the excellent service we provide, Blue Planet Entertainment are working with some 'Great Australian' companies on an ongoing basis.
Call us on 1300 738 735 to discuss Entertainment Options for your next event!!
Check out more great LIVE entertainment at Blue Planet Entertainment TV!!
Summary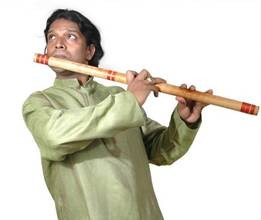 Service Type
Vinod Prasanna bansuri (flute) outstanding performer of authentic traditional and contemporary Indian music
Provider Name
Blue Planet Entertainment
,
Level 10, 440 Collins St
,
Melbourne
,
Victoria
-
3000
,
Telephone No.1300 738 735
Area
Melbourne and Australia-Wide
Description
Vinod Prasanna was born into one of India's greatest flute-playing families, award-winning bansuri (flute) and shines as an outstanding performer of authentic traditional and contemporary Indian music