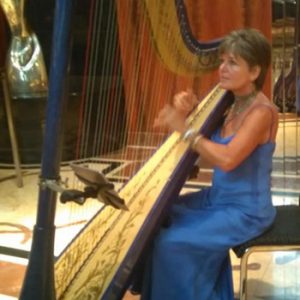 Sultans, Kings, Prime Ministers, World Leaders, Royalty…
Vanessa has enthralled audiences from all over the world and from all walks of life with her playing, from performing in caves to palaces, in flat-bottomed boats from Florida to Lake Erie, to Arabian dhows on the Indian Ocean!
Vanessa has performed all around the world on her bright blue 47 string electro-acoustic harp, aptly named The Big Blue. The great thing about this particular harp, Vanessa says, "When I am doing outside gigs, it can just be plugged directly into the amp and…off we go!" Originally from Britain, she also studied in the US and France. Vanessa has performed extensively throughout the Middle East, in Jordan, United Arab Emirates, and in particular Oman. There, Vanessa taught the harpists of the Sultan of Oman's 'Royal Oman Symphony Orchestra', and was the resident harpist for the eminent guests of the Sultan when they visited Oman. She arrived on the shores of Australia, in Darwin where she performed numerous concerts and gave first Australian performances with the Darwin Symphony Orchestra, and developed a chamber music recital series called "All things Music".
Winner of numerous awards and prizes for her playing, Vanessa recorded for Virgin Records: French Music with the English Chamber Orchestra and the Allegri String Quartet. Although she performs as a concerto artist, soloist, and in chamber music recitals, she believes her forte is in performing light music from musicals, popular opera, jazz and even some Led Zeppelin and Metallica.
Vanessa is now based in Melbourne
travelling regularly to Europe, and has featured playing regularly at many events throughout Victoria, both as a soloist and orchestral harpist. Her music selection being a quintessential part of her performance. The magical and mysterious sounds of the harp are always a delight to hear, but in this musicians hands, it is a rare treat!
Photograph – Ed Sheeran Cover
Vanessa Harpist Repertoire
Classical/Traditional
Movie/Musical/TV
Adagio by Croft
Adele – Million years ago
Aerosmith – I don't Want To Miss A Thing
Afscheid
Again – Lenny Kravitz
Against the wind – Seger
Ain't Misbehavin' – Fats Waller
Ain't no Sunshine
READ MORE...READ LESS

Air on a G string – J S Bach
Airde Cuan Traditional
Alicia Keys – Fallin'
All By Myself – Carmen
All I ask of you – Webber
All I ever Wanted
All of me
All Of My Life
All the things you are – Kern
All You Wanted – Michelle Branch
Alladin – A Whole new world
Always A Woman – Billy Joel
Amazing Grace
Anche se non mi vuoi – Pausini
And i love you so – Don Maclean
Andaluza – Granados
Angel – Macachlan
Angel Eyes
Angels we have heard on high
Annie's song – John Denver
Anouk – my life
Answer me, my love – Winkler
Anthem
Around the clock suite
As time goes by – Hupfeld
Astor Piazolla – Adios Noni
Ave Maria – Schubert
Avril Lavigne – Complicated
Back at One
Barcarolle – Offenbach
Baroque Flamenco. Conant
The basket of turf – Traditional
Beautiful Joe Cocker
Beauty and The Beast arr Vanessa
Because-you-loved-me Celine Dion
Bed of Roses
Ben – Michael Jackson
Benedictus The Armed Man arr Vanessa
Berceuse
Big My Secret – The Piano
Blackbird
Bless this Road
Blue eyes crying in the rain
Blue Moon
Blues for René
Bon Jovi – Always
Boom Boom Boom
Born Free – John Barry
Brian Boru March Traditional
Bridge over troubled water – Simon & Garfunkel
Bright Eyes
Bring him home
Brothers in Arms – Dire Straits
But not for me – Gershwin
Can you feel the love tonight – Elton John
Candle in the wind – Elton John
Canelle
Canon in D
Can't help falling in love
Cant take my eyes of you
Caro nome
Carolan's welcome Trad
Castle In The Cloud Les Mis – Schonberg
Cavalleria Rusticana
Cavatina – Williams
Celine Dion- It's All Coming Back to Me Now
Champs elysees
CHESS
Circle of life – Elton John
Clair de Lune
Clap yo' hands – Gershwin
Close Your Eyes Buffy the vampire slayer
Colorblind – Counting Crows
The Colors of Wind – Pocahontas
Come What May
Comme moi – Monnot
Complicated – Avril Lavigne
Contact main theme
Cornflake Girl
Crocketts Theme – Jan Hammer
Cry – Ludy
Cry me a river Curacha
Danny boy – Trad
De Bestemming
De Rosen Cavalier
Destiny Child – Stay
Divenire
Do do do – Gershwin
Dogs days are over – Florence And The Machines
Dont Cry For Me Argentina – Webber & Rice
Dr Zhivago – Michel Jarre
Dream A Little Dream Of Me – Schwand & Andre
Driftwood – Chertok Drowning
The Eagles – Desperado
Earth Song – Jackson
Edelweiss – Rodgers & Hammerstein
El condor pasa
Eleanor Rigby
Elton John – Dont Let The Sun Go Down On Me
Elton John – Your Song
Embraceable you – Gershwin
Empty chairs
Enrique Iglesias – hero – Ludy
The Entertainer – Scott Joplin
Epices
Estrellita – Ponce
Etude de concert – Tournier
Evening Falls – Ryab
Evergreen – Streisand
Everything I Do – Bryan Adams
Everything In Its Right Place – Radiohead
Evita – You Must Love Me – Webber & Rice
Fanny Power – Trad
Feed the birds
Fisher's hornpipe Trad
Flashdance – Moroder
Floras secret
Flower duet
Fly me to the moon – Howard
The foggy dew – Trad
Folk medley – Trad
Fool on the hill
Foolish Games
For your eyes only
Forrest Gump – Silvestri
Gabrielle – Out of Reach
Gabriels Oboe – Morricone
Gaelic Waltz – Stivell
Game of thrones
Gingembre
Give me your hand
Give me your word – Wyle
Go the distance
Godfather – Rota
Greensleeves – Trad
Gypsy Rover
Habanera – Bizet
Habanera gris – Ortiz
Hakuna Matata
Hallelujah
Hands
Hansel & Gretel
Happy birthday
Harry Potter theme – Williams
Heal the World – Michael Jackson
The Heart Asks Pleasure
Hello – Lionel Ritchie
Her Most Beautiful Smile
Here There and Everywhere
Hey Jude – The Beatles
Hikari to Kake – Rayearth
The House of The Rising Sun – The Animals
How can i be sure
How Do I Live
Hymn to Hope
I am blessed
I Believe – Union Souls
I Believe I Can Fly
I Can't Help Falling in Love – Presley Elvis
I could have danced all night – Lerner & Lowe
I don't know how to love him – Webber
I dreamed a dream – Sondheim
I got rhythm – Gershwin
I Guess Why They Call It the Blues
i know him so well
I left my heart in San Francisco
I should care – Cahn
I Want It That Way
I will always love you – Whitney Houston
I Wish It Would Rain Down – Phil Collins
Ice castles – Hamlisch
If – David Gates
I'll come when you call – Cary I'll Make Love to You
I'm Not A Girl – Britney Spears
Image – Nico Pol In my head in my place – Coldplay
In the mood –
I need you tonight – Back Street Boys
Irish wedding song – Trad
It looks like rain in cherry blossom lane
It's been while
I've got a crush on you – Gershwin
I've grown accustomed to her face – Lerner & Lowe
I would stay – Jaqueline Govaert
Janet Jackson – Again
Jesu Joy
Jewel – Foolish Games
Jewel – How Do I Live
John Lennon – Imagine
John Ryan's polka Trad
Johnny i hardly knew you Trad
Jurassic Park – John Williams
Kate Winslet – What If
Killing Me Softly with His Song
Kissing You – Desiree
Kola
Konstantine
Krezip – I Would Stay
La Boheme – Puccini
La Boum – Reality
La dispute – Amelie Poulain
La donna e mobile
La fille aux cheveux du lin – Debussy
La Margarita dijo no – Alejandro Sanz
La Paloma – Trad
La Source – Hasselmans
La Solitudine
La Valse d'Amelie
La vie en rose
Lady – Lionel Ritchie

Vanessa Harpist Repertoire
Lady and the Tramp – Lee & Burke
Lame – Delibes
Las Manintas Trad
Le moulin – Amelie Poulain
Lean on me – Bill Withers
Leaving on a jetplane
Reflections of Passion"
Les filles de Calix
Les-Parapluies-de-Cherbourg – Loner-XP
Let It Be – Beatles
READ MORE...READ LESS

Let it be me – Becaud
Lets call the whole thing off – Gershwin
Libertango solo
Life on Mars arr Vanessa
Lionel Richie – endless
Little things mean a lot – Lindemab
Look at me, Im sandra dee
Lord of the Dance
Love is here to stay – Gershwin
Love Me Tender
Love story – Las
Love story – Taylor Swift
Love Takes Time – Carey
Love theme
Love Theme Romeo & Juliet – Henry Mancini"
The Luckiest – Ben Folds Lucy in the sky – Beatles
The Man With The Golden Gun
Marco Borsato – Vaderdag Marco Borsato – Wie
Maria – Bernstein
Married with Children
Marry me – Train
Maskers
May it be – Enya
Meaning of Being Lonely
Meditation – Thais
Memories – Webber
Merry Widow
Michelle – Beatles
Milonga para amar – Ortiz Miss Murphy Trad
Mission Impossible Misty – Garner
Mo li hua
Moon River – Mancini
Moondance
Moonlight Serenade
Mulan – Reflection
Mull of Kintyre
Musette's Waltz
Music of the night
My Favourite Things – Rodgers
My Heart Will Go On – Horner
My love – Hatch
My special angel My way
Nessum Dorma
Never Had
Never my love – Addrist
New blues – Henson Conant
New Born
New York New York – Kander
Nightingale arr Vanessa
Nights in white satin
No Doubt – Dont Speak
No Woman No Cry – Bob Marley
Nocturne 2 Opus 9 – Chopin
Nooit Meer Een Morgen
Norwegian Wood
Nothing Compares To U – Sinead Connor
Nothing Else Matters – Metallica
Nothing left to say
Nothings Going to Change My Love For – George Medeiros
November Rain – Guns & Roses
O mio bambino
Oblivion-Enrico – Piazolla
October
Oh lady be good – Gershwin
Ol man river – Hammerstein
On My Own – Schonberg
One for my baby
One of Us
One Sweet Day
One Last Wish
Only Hope – Mandy Moore
Out There
Over the rainbow – Garner
Overcome – Live
Passacaille – Handel
Pavane – Andres
Pavane fo a dead princess – Ravel
Perhaps love – John Denver
Perhaps perhaps perhaps
Phil Collins – Against all odds
Photograph arr Vanessa
The Piano – Nyman
PIANOMAN – Billy Joel
Pie Jesu – Webber
Pink Panther – Mancini
Point of no return
Prelude in C – Bach
Prelude no 4
Premiere arabesque – Debussy
Prince of Egypt
Queen of Sheba – Handel
Raindrops keep Fallin – Bacharach
Red is the rose Trad
REM – Everybody Hurts – Berry
Right Here Waiting – Richard Marx
Rigoletto
River flows in me – Yumi
Robbie Williams – Angels
Robbie Williams – She's the One
Rocket Man
Romance de Nadir – Bizet
Romeo & Juliet
Runaway – The Corrs
Sakura Variations for guitar
Sally Gardens – Trad
Santana – Smooth
Sarabande – Andres
Say something – Great Big World
Scarboro Fair
Schindlers List – John Williams
Serenade – Schubert
Scotch Air Trad
Seal – Kiss from A Rose
Selena – Dreaming of You
Send in the Clowns
September-Morn – Neil Diamond
Shaggy – angel
She's leaving home – Beatles
Sicilian Variations
Silver inches
Skater's Waltz – Waldteufel
Sleep Song
Sleepy shore – Pearson
Smell of teen spirit Smile – Chaplin
Solfeggiato – Bach
Someone to watch over me – Gershwin
Somewhere in time – Barry
Somewhere Out There – Horner
Sonata in C – Dussek
Song for Guy
Song from Secret Garden
Song from the moulin rouge – Auric
Sorry Is the Hardest Word To Say
Sounds of Silence – Paul Simon
Spanish Romance Anon
Stairway to Heaven – Led Zeppelin
The star of county down – Trad
Sting – Ill be missing you
Stormy-Weather
Stranger in paradise
Summer palace – Steiner
Summertime – Gershwin
Sunflower – Mancini
Sunrise sunset – Bock
Sunset Boulevard
Superman – John Williams
S'wonderful – Gershwin
Symphony themes – Eleanor Fell
Take Five 5 – Paul Desmond
Tango – Maria Molinari
Tango for Evora
Tara's Theme – Duval
Tea-house moon"-
Tears in heaven – Eric Clapton
There must be a reason – Davis
There you'll be – Faith Hill
A thousand years – Perri
Through the Eyes – Ice Castles
Time to say goodbye – Sartori
To Love You More"
Tonight
Tori Amos – Winter
Train – Drops of Jupiter
Trouble – Coldplay
Two Become 1 – Stennard
Two Different Worlds – Frisch
Un Bel Di"
Unforgettable – Irving Berlin
Usher – u remind me
Utada hikaru – first love
Viennese waltzes
Villa
Vincent – Mcclean
Vissi d'arte,vissi d'amore
Waiting – Ortiz
Walking in the air – Blake
Waltzing matilda Trad Water is wide Trad
Watermark – Enya
Way it is – Bruce Hornsby
The Way We Were
Wedding march (leaving) – Mendelssohn
Wet Wet Wet – Love Is All Around
We've only just begun
What a wonderful world – Weiss
When i fall in love
When i look at you
When I'm 64
When She Loved Me – Sarah McLachlan
When you believe – The Prince of Egypt
When you lose the one you love – Pelosi
White cliffs of dover
Who are we? – Webster
Will Talk and Listen
Wind Beneath Your Wings
Wish upon a star
With or without U – U2
A Woman's Worth – Alicia Keys
Wonderful Tonight
Y Delyn Aur – Griffiths
Yesterday – Beatles
Yesterday when i was young – Charles Aznavour
You Are Still the One
You don't bring me flowers arr Vanessa
You needed me
You only live twice
You raise me up
You-Are-Not-Alone – Michael Jackson
You'll Be in My Heart – Phil Collins
Your Song arr Vanessa
Zorba the greek – Theodorakis

More great entertainment options for your Wedding or Event!
Blue Planet Entertainment have a fantastic range of Musicians, DJ's and Wedding Entertainers that will set the tone for your event and deliver an entertaining, engaging and memorable performance. If you are looking for an Acoustic Duo or Trio, a Cover band, a Jazz Band, a Wedding Band or Entertainment for your Corporate Event, you are in the right place.
Blue Planet Entertainments professional approach to each inquiry means that you get that best service possible. We work with you to make sure you engage the perfect Entertainment to suit your experience and budget
Through the excellent service we provide, Blue Planet Entertainment are working with some 'Great Australian' companies on an ongoing basis.
Call us on 1300 738 735 to discuss Entertainment Options for your next event!!
Check out more great LIVE entertainment at Blue Planet Entertainment TV!!