The Mentalist is Australia's most highly regarded hypnosis stage show.
The Mentalist began his career 30 years ago as a Mind Reader/Mentalist in Western Australia and has since performed regularly in venues across the country. At age 16 he had the rare opportunity to work with one of the eighties leading stage Hypnotist's Ronrico, becoming part of his West Australian tour. Having a unique comic & vocal ability The Mentalist moved into the realms of Stand-up Comedy in the late 1980's. It wasn't long before his talents had him headlining at some of the largest comedy venues in the country and overseas.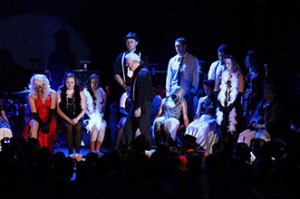 These Included:
Special guest artist Melbourne international comedy festival 2012, Featured performer the gangsters ball 2012, Crown Casino, Tivoli Brisbane, Metro Sydney, The last Laugh and literally hundreds more…
The Mentalist is fully trained and qualified through several professional institutions including the Australian Academy of Hypnosis, he uses Psychology, Body Language, Misdirection Influence Manipulation, NLP, a little bit of Hypnosis and a lot of Bullsh*t to screw with peoples brains and make them believe that he can read minds. Science meets the dark arts as The Mentalist takes you and your audience on a tour of the subconscious showing you just what you're capable of, he will amaze and amuse you, a blend of psychological magic and comedy and the downright weird that is Ideal for any function and will have your audience talking for weeks after the show.
The Mentalist is also the host of a leading radio show The Dark star Effect dealing with the unusual the weird and the bizarre, he has toured the country with one of Australia's most highly regarded hypnosis stage shows. "Total Influence" Shane brings to your Event or Function a wealth of experience in both Comedy and the Powers of the Mind.