Sophie Serafino is described as passionate, fearless and intriguing, a transformational artist
Sophie Serafino fuses exotic, melodic and rhythmic sounds to create an utterly unique high-energy concert, leaving you transfixed from start to finish. Sophie Serafino commands the stage with power and charisma, without boundaries, and as Robert O'Brien from Black & White Magazine Australia says, 'if flame haired violinist Sophie Serafino can lead that audience to a place where classical meets pop and rock, the rest is easy, this girl is set to leave her mark in the international music scene'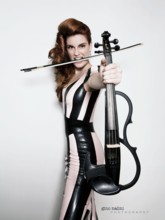 A Violinist, singer and composer, Sophie Serafino has been described by the Daily Telegraph Australia as 'inimitable', by the Sydney Morning Herald as 'refreshing' and by writer Gail Kavanagh as 'one of the few who deserve the title of diva'. She's pumped it up at the DJ desk New Years Eve 2008 in Istanbul, performed sitting atop a trapeze in Rome and moshed with the crowds in Germany. Sophie Serafino displays a huge polarity of emotion taking the audience on a journey from her wild energy and defiant character to the huge vulnerability she displays in some of her songs.
Fearless in her technical assault, intriguing with her warm and witty connections and passionate in her performance, Sophie Serafino transforms not only of herself but takes everyone along the journey. Sophie Serafino has performed all over the world, for dignitaries the Crown Prince of Dubai, Sheikh Mohammed at the Emirates Palace in Sao Paolo Brazil, the Bahraini Royal Family and Australian Ambassador of Turkey, and Crown Prince & Princess Mary & Frederik of Denmark.
Sophie Serafino has performed more than 400 concerts around the globe, has a Bachelor of Music Performance degree from Sydney Conservatorium (Violin Major) and the Associate & Licentiate Diplomas of Music in Violin Performance from the Australian Music Examinations Board. On occasion, Sophie has worked as a session musician for EMI and Warner Music Artists including Goldfrapp, The Hoodoo Gurus, Josh Groban and The Veronicas.
Sophie Serafino's musical style has evolved after years of technical experimentation with many musical genres, has been described as entirely unique. Sophie mixes world music with rock, dance, some Middle Eastern influence and classically inspired strings. She freely communicates with the audience who never know when it's safe to look away- one moment she is on the stage, the next she is right next to you.
Born in London, Sophie grew up in Australia and began violin lessons at the age of 3, placing in competitions and receiving A grades for all violin exams during her school years. She studied classical and modern dance from the age of 10 and singing and acting at 15, and at 16, was already imagining something different to classical dance and classical violin and writing her own music. She is recognized as a formidable talent acknowledged by her ongoing endorsement deal with Yamaha and frequent sponsorship deals.
Sophie has also studied acting for over ten years, at the National Institute of Dramatic Art, The Filmmakers College and the Australian Theatre for Young People. Sophie was spokesperson for the Sporting Chance Cancer Foundation's national advertising campaign which aired on the major network channels nationally during 2003, has had featured roles on television and short films including All Saints, and has had principle roles in local theatre productions including The Science Officer in THE Theatre Company's Return to the Forbidden Planet and Velma in Chicago at the Zenith Theatre in Chatswood.
With her wild imagination, the results have taken here everywhere. Since then, Sophie has toured with her original act to cities all over the world including Sydney, Melbourne and Brisbane to London, Amsterdam, Paris, Rome, Sardinia, Hamburg, Istanbul, Casablanca, Bahrain, Dubai, Delhi and Tokyo.
Sophie is the founder and co-chairwoman of Every Woman Festival Australia which is a non-profit organization dedicated to celebrating woman from all walks of life- women of style and substance. Sophie has raised over $50,000.00 for various charities through her events and continues to support various charity organizations, in particular Ovarian Cancer Canada, of which Sophie is an ambassador.
Her most recent CD, The Gold Violin, was produced by Peter Malick (Los Angeles) of Norah Jones fame, and was launched at Sydney Opera House in 2011 to a full house