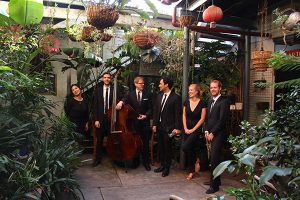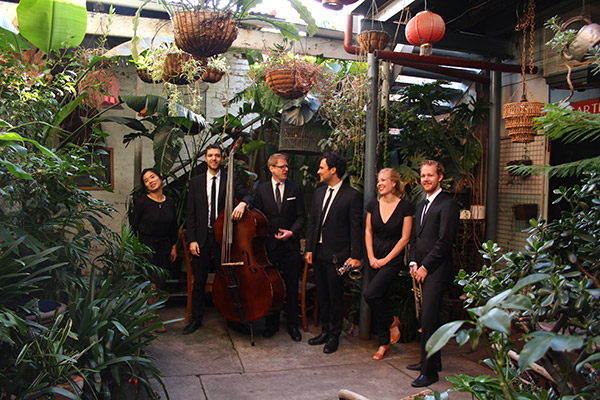 Paper Moon Jazz Band
Paper Moon is a group of well-known, dedicated and talented musicians who specialise in performing at weddings, corporate functions, parties and anniversaries. Paper Moon Jazz Band has spent years playing together and our sound is the result. The musicians of Paper Moon  blend their unique sounds and styles seamlessly, producing deep, rich music that moves our audiences. Our energy and experience have made the band what it is today. Our sophisticated and elegant presence allows us to share our love of music without relying on stage gimmicks to provide a great performance. With a full range of music from the jazz,/swing/bebop era at our disposal, we'll provide the music your guests want to hear.
The usual lineup of Paper Moon Jazz Band consists of Vocals, Sax, Trumpet, Piano, Bass, and Drums. The band lineup can range from a solo artist to the full group, or more if desired! Our musicians have years of experience, endless talent, and a love for what we do. We bring your favourite artists and songs to life, setting the atmosphere for an event to remember! Paper Moon can get the crowd going with a fresh, modern take on the classics or rev up the energy with some jazzed up arrangements of well-known pop tunes. We have a deep knowledge and respect for the music of an era that has influenced all types of music since. The Paper Moon Jazz Band interpretation of the songs of the greats results in music you'll love.
Paper Moon Jazz Band
…sets the mood for whatever function you're planning. We work closely with our clients to determine the vibe of the event, and perform accordingly. The professionalism of Paper Moon Jazz Band is evident in our presence, the quality of the music we play, and our dedication to our music.
Check Out These LIVE Videos!!
Paper Moon Jazz Band – Repertoire 
Vocal Jazz Standards (Can be performed instrumentally)
1. Ain't no sunshine
2. All blues
3. All of me
4. All of you
5. All the things you are
6. Angel eyes
7. At last
8. Autumn leaves
9. Beautiful love
READ MORE...READ LESS
10. Black coffee
11. Blame it on my youth
12. Body and Soul
13. But not for me
14. Bye bye blackbird
15. Cry me a river
16. Days of wine and roses
17. Detour ahead
18. Do you know what it means
19. Don't explain
20. East of the sun
21. Everything happens to me
22. Feel like makin' love
23. Fever
24. Fly me to the moon
25. Georgia on my mind
26. God bless the child
27. Have you met miss jones
28. Honeysuckle rose
29. How high the moon
30. I can't get started
31. I could write a book
32. I fall in love too easily
33. I get a kick out of you
34. I'll be seeing you
35. I'll remember April
36. I'm beginning to see the light
37. I'm old fashioned
38. I've got you under my skin
39. If I should lose you
40. If I were a bell
41. In a sentimental mood
42. It could happen to you
43. It don't mean a thing (if it aint got that swing)
44. Like someone in love
45. Love for sale
46. Loverman
47. Mean to me
48. Misty
49. My baby just cares for me
50. My romance
51. Nature boy
52. Nearness of you
53. Night and day
54. On green dolphin street
55. On the sunny side of the street
56. Out of nowhere
57. Pennies from heaven
58. Round midnight
59. Save your love for me
60. Say it's only a paper moon

Paper Moon Jazz Band – Repertoire 
61. Skylark
62. Smoke gets in your eyes
63. Softly as in a morning sunrise
64. Stella by starlight
65. Stompin' at the savoy
66. Summertime
67. Take the A train
68. The way you look tonight
69. There is no greater love
70. There will never be another you
READ MORE...READ LESS
71. They can't take that away from me
72. What is this thing called love?
73. Willow weep for me
74. You don't know what love is
75. You'd be so nice to come home to
76. Beatrice
77. Billies bounce
78. Blue in green
79. Blue monk
80. Blue train
81. Boplicity
82. Cherokee
83. Donna lee
84. Four on six
85. Freddie freeloader
86. Ladybird
87. Lester leaps in
88. Lets cool one
89. Monks dream
90. Naima
91. Nows the Time
92. Round midnight
93. Scrapple from the apple
94. So what
95. St Thomas
96. Stolen moments
97. Take five
98. Yardbird suite
New Orleans/Gospel/Trad
1. Aint misbehavin'
2. Bear necessities
3. Black and tan fantasy
4. Bourbon St parade
5. Dinah
6. Do you know what it means (to miss new Orleans)
7. Down by the riverside
8. Egyptian fantasy
9. Footprints
10. Four
11. Hobo you can't ride this train
12. I wanna be like you
13. I'll Fly Away
14. I'll see you in my dreams
15. Jitterbug waltz
16. Just a closer walk with thee
17. Mack the knife
18. Maiden voyage
19. Make me a pallet on the floor
20. My monday date

Paper Moon Jazz Band – Repertoire 
New Orleans/Gospel/Trad
21. Pennies from heaven
22. Please don't talk about me when I'm gone
23. Some of these days
24. When I grow too old to dream
Jazz Funk
1. Cantaloupe island
2. Chameleon
3. Cissy strut
READ MORE...READ LESS
4. Funky miracle
5. Killer joe
6. Look Ka Py Py
7. Mercy mercy mercy
8. Mr Cool
9. Mr Magic
10. Red Clay
11. Sidewinder
12. Watermelon man
Bossa nova and latin
1. A felicidade
2. Afro blue
3. Agua de beber
4. Black orpheus (Manha de carnival)
5. Blue bossa
6. Caravan
7. Chega de saudade
8. Corcovado
9. Desafinado
10. Dindi
11. Girl from Ipanema
12. How insensitive
13. Nardis
14. Night in Tunisia
15. Once I loved
16. One note samba
17. Song for my father
18. Triste
19. Wave
Modern/Jazz arrangements of popular tunes
1. Aint no sunshine
2. At last
3. Come away with me
4. Daytripper
5. Don't know why
6. Falling
7. Feel like making love
8. Hit the road jack
9. Hound dog
10. Lets stay together
11. Mellow saxophone
12. Moondance
13. Sexual healing
14. Sunny
15. Superstition
16. Sway
17. Valerie
And many more tunes, please feel free to request songs

More great entertainment options for your event!
Blue Planet Entertainment have a fantastic range of Corporate Event Entertainment and Wedding Entertainers that will set the tone for your event and deliver an entertaining, engaging and memorable performance. If you are looking for a Solo Artist, an Acoustic Duo or Trio, a Cover band, a Jazz Band, a Wedding Band or Entertainment for your Corporate Event, you are in the right place.
Blue Planet Entertainments professional approach to each inquiry means that you get that best service possible. We work with you to make sure you engage the perfect Entertainment to suit your experience and budget
Through the excellent service we provide, Blue Planet Entertainment are working with some 'Great Australian' companies on an ongoing basis.
Call us on 0418 364 728 to discuss Entertainment Options for your next event!!
Check out more great LIVE entertainment at Blue Planet Entertainment TV!!
Summary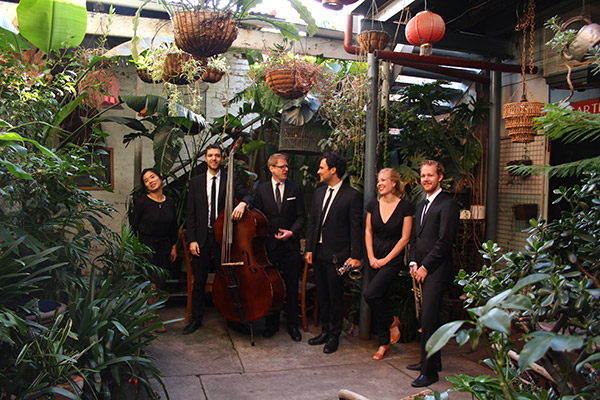 Service Type
Paper Moon Jazz Band Hire
Provider Name
Blue Planet Entertainment
,
Level 10, 440 Collins Street
,
Melbourne
,
Victoria
-
3000
,
Telephone No.0418 364 728
Area
Description
Paper Moon Jazz Band is a sophisticated and elegant Jazz Ensemble that specialise in performing at weddings, corporate events, parties and anniversaries.