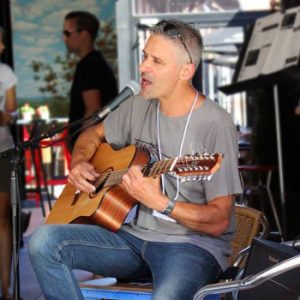 Kieran is a solo artist who is well known for his strong vocal ability and passionate style.
He's a balladeer at heart but with a keen ability to change songs on the fly to suit the flow of any event. Playing hits from the last four decades, he'll surprise you with his own acoustic twist on each track, including contemporary pop from artists such as Adele, Rhianna, Sia, as well as drawing on the best of Aussie rock, Motown, 70s disco, 80s – 90s classics and more.
Kieran Solo Musician
Listen to Kieran's LIVE demo's!!
Kieran Solo Musician – Songlist
500 miles (Proclaimers) Ballad version
Ain't no use (Dylan)
All I Want Is You (U2)
Blank Space (Talor Swift)
Blowers Daughter (Damien Rice)
Brown eyed Girl (Van morrison)
Can I be him (James Authur)
Case of You (Joni Mitchel)
Chandelier (Sia)
Chasing Cars (Snow patrol)
READ MORE...READ LESS
Come on Eileen (Dexys midnight runners)
Dancing Queen (Abba)
Demons (Imagine Dragons)
Diamonds of the Souls of her shoes (Paul Simon)
Everlasting Love (Love Affair/U2)
Everytime (Britney Spears)
Fall At Your Feet (Crowded House)
Fire Away (Chris Stapleton)
Forever Young ( Alphaville)
Free Falling (Tom Petty)
Gravy (Paul Kelly)
Heart of the Matter (Don Henley)
Hello (Adele)
Hello (Lionel Richie)
Hey Hey My My (Neil Young)
Hold On (Wilson Phillips)
How to save a life (The Fray)
I wanna dance with somebody (Whitney)
If I Could Fly (Benny Mardones)
In The Arms Of The Angel (Sarah McLachlan)
Iris (Goo Goo Dolls)
Issues (Julia Michaels)
King of Wishful Thinking (Go West)
Landslide (Fleetwood Mac)
Let it Go (James Bay)
Live It Up (Mental as Anything)
Living On A Prayer (Bon Jovi)
Missing You (John Waite)
Need you now (Lady Antebellum)

Kieran Solo Musician – Songlist
Never tear us apart (Inxs)
One (U2)
Reckless (Aussie Crawl)
Romeo & Juliet (Dire Straights)
Run (Snow Patrol)
Runaway train (Soul Asylum)
Sailing (Rod Stewart)
Say Something (Great big World)
Shandi (Kiss)
Skinny Love (Bon Iver)
READ MORE...READ LESS
Someone like you (Adele)
Space Oddity (Bowie)
State of the Heart (Mondo Rock)
Stay (rihanna)
Storm (Glen Hansard)
Streets have no name (U2)
Streets of philadelphia (Springsteen)
Stuck in the Middle (Stealers Wheel)
Suspicious Minds (Elvis)
Sweet Caroline (Neil Diamond)
The Joker (Steve Miller Band)
The Queen and the Soldier (Suzanne Vega)
This Town (Niall Horan)
Time After Time (Cindy Lauper)
Titanium (Sia)
To Her Door (Paul Kelly)
Total Control (The Motels)
Unconditional (Katy Perry)
Use Somebody (kings of leon)
Warrior (Demi Lovato)
We found love (Rihanna)
What are you listening to (Chris Stapleton)
What Becomes of the Broken Hearted (Jimmy Ruffin)
When Doves Cry (Prince)
Who Knew (Pink)
Wild Ones (Sia)
Wrecking Ball (Mylie Cyrus)
YMCA (Village People)

More great entertainment options for your Wedding or Event!
Blue Planet Entertainment have a fantastic range of Musicians, DJ's and Wedding Entertainers that will set the tone for your event and deliver an entertaining, engaging and memorable performance. If you are looking for an Acoustic Duo or Trio, a Cover band, a Jazz Band, a Wedding Band or Entertainment for your Corporate Event, you are in the right place.
Blue Planet Entertainments professional approach to each inquiry means that you get that best service possible. We work with you to make sure you engage the perfect Entertainment to suit your experience and budget
Through the excellent service we provide, Blue Planet Entertainment are working with some 'Great Australian' companies on an ongoing basis.
Call us on 1300 738 735 to discuss Entertainment Options for your next event!!
Check out more great LIVE entertainment at Blue Planet Entertainment TV!!