ELISE – is a professional aerialist and dancer
Elise is trained in Aerial Silks, Aerial Ring, Spanish Web, Static Trapeze, Aerial Rope and Bungee, she undertook 3 years of full-time dance training while learning to become an aerialist. Her grace and aerial skills blend into a truly remarkable performance.
Elise possesses a natural talent for anything aerial. This coupled with her amazing stage presence makes her a truly amazing performer with a very impressive and quickly expanding client portfolio including Mercedes Benz, Cargotec, Accor (Novotel), The Ivy Sydney, Fashion Aid 2012, Chamber of Commerce and Norwegian Cruise Lines where she performed all of her aerial skills weekly during full-length theatrical spectacles.
Elise's amazing performance talent has recently gained the attention of Cirque Du Soleil. She has recently been added to their performers talent pool for upcoming shows.
See Elise Live on these videos!
Elise's EXPERIENCE
2016
• Pacha Ivy Resident Performer – Sydney
• Performed Silks at The Plaza
• Performed synchronised silks at The Grand Pavilion
• Performed Aerial Champagne at Aerial South Wharf
• Currently the understudy for Straps and Aerial Cube at Draculas Cabaret Restaurant
• Currently performing Bungee Aerial Hoop, Aerial Hoop and Silks monthly at Pacha (The Ivy) in Sydney
2015
• Performed synchronised silks at Hisense Arena for ANZ
• Performed duo Aerial Silks Act for Victorian Racing Club Gala – Crown Palladium.
• Performed Silks at the Spiegletent
• Performed and Organised a Group Silks Act and Aerial Hoop performance for KIA Gala Event
2014
• Performed Silks for Circus Oz
• Performed Silks for Channel 9 The Today Show Weather Cross
• Performed Silks for Channel 10 The Project
• Performed World First Bungee Aerial Hoop Act at Santa's Christmas Spectacular Contract (Spiegeltent)
• Performed Bungee Aerial Hoop Act at The Comedy Festival
• Performed Bungee Aerial Hoop Act at The Spiegeltent Evening Events
• Performed Silks as a Resident Performer throughout the year at The Wonderland Spiegeltent
• Performed Duo Synchronised Silks at The Melbourne Pavillion
• Performed Silks at Water Gardens Shopping Centre Christmas Shows
• Performed Aerial Silks with Redfoo at Trak
• Performed Aerial Silks for the Oncology Gala (Sydney)
• Completed NICA Certificate IV in Circus Arts
2013
• Performed Aerial Silks for the French Chamber of Commerce
• Performed Aerial Silks with Warwick Capper at Sydney Swans Corporate Function
• Performed Aerial Hoop on Channel 7's Home and Away
• 2013 RICOH Gala Dinner (Sydney)
• Performed at RMHC Audi Centre Gala Ball 2013 (Canberra)
• Performed at A-Class Motor Launch Mercedes Benz
• Performed Singing, Silks, Adagio and Dance at The Carnivale Show
• Performed at The Melbourne Formula 1 Grand Prix 2013
• Performed Synchronised Aerial Silks at Melbourne Zoo Twilights with The Pink Show
• Strut Resident Aerialist 2013
• Performed Dance at K1 Kickboxing
• Performed Dance at Dorset
• Resident Aerialist at TRAK 2013
• Pink Show Resident Aerialist 2013
• Performed Silks at 'Life In Color' at Grand Pavillion at Melbourne Showgrounds
• Roving Character 'Harbour Town Hooligan'
2012
• Performed at Fantasia NYE
• Performed Aerial Silks in NYC Club (Bangkok, Thailand)
• Performed Syncronised Duo Aerial Silks with RUDY 'In The Air' for Mothership
• Performed Aerial Silks at Olympic Park Melbourne
• Performed Roving Adagio for ANZ
• Performed Roving Adagio for Cadbury
• Performed Aerial Silks for Clydevale Cars
• Performed Roving Acrobatics at Moonee Valley Race Course Corporate Event
• Performed Aerial Ring and Silks at the 2012 Glitter Ball
• Performed Aerial Silks at ANZ Corporate Event
• Performed Silks and Duo Rope for the opening and closing of the Arts and Laughs festival Australia
• Performed Silks, Aerial Hoop and Duo Rope three shows a day at the Safari Spectacular Circus Show
• Performed Aerial Hoop at Fashion +Aid 2012
• Performed Silks with Dave Hughes
• Performed Silks at Red Bennies
• Performed Silks and Spanish Web in the Winter Wonderland Circus Spectacular (3 shows daily for the duration of the contract)
• Performed Silks at a comedy night featuring Akmal Saleh at The Spiegeltent
• Performed Silks at the launch for the Aero-Sphere Grand Opening
• Performed Silks at a comedy night featuring Jeff Green
• Performed Silks for the Chamber of Commerce
• Performed Aerial Silks and Aerial Ring for Cargotec at the 2012 International Truck, Trailer & Equipment Show (Melbourne Showgrounds)
• Performed Aerial Ring for Novotel (Accor) at the AIME Event (Melbourne Exhibition and Convention Center)
2011
• Performed Silks, Aerial Ring, Spanish Web, Bungee Trapeze and Dance in a 6-month contract with Norwegian Cruise Lines (USA)
• Choreographed my solo Silks act and solo Aerial Ring act for the Norwegian Cruise Lines (USA)
2010
• Performed Silks at the Mercedes Benz SLS 3 Point Motor Launch
• Performed at The Miss Indy Event (Copacabana)
• Performed at 'Halikarnas' Event (Royal Melbourne Hotel)
• Performed as a backup dancer on 'Australia's Got Talent'
• Performed at Crusty Demons Cairns Tour (Cairns)
• Performed at Robert Sturrock's 'Strike a Pose'
• Performed at Crusty Demons Bundaberg Tour (QLD)
• Performed at Crusty Demons Darwin Tour (Darwin)
• Performed at Mrs Australia W.I.N Foundation Event
• Performed at Crusty Demons Gosford Tour (NSW)
• Performed at 'Iwareness' Vision Australia Fundraiser at White Bar
2009
• Performed at the Dance Cancer Initiative
• Performed at a function at The Richmond Assembly of God
• Performed at the Victor Holder R. "Rebirth Of Resonance" Art Exhibition
• Choreography of a piece for Flare Dance Company
• Member of Locreado Dance Company
• Performed at Fashion + Aid 2009 – Crown Casino
• Performed at the Fame Movie Premier at The Jam Factory
• Performed at Dance For Life at The Space
• Performed solo at Flare Dance Company 'In Essence'
• Performed in Robert Sturrock's "Dance It Up"
• Performed at the Davidoff Company Party at The Ivy Hotel Sydney
• Performed at the Edelsten Wedding at Crown Casino
• Performed in 'Dance Sensation' by Robert Sturrock
TRAINING
•NICA Bachelor Degree (Currently Second year)
• National Institute of Circus Arts Certificate IV (NICA)
• Toronto School of Circus Arts (TSCA)
• Private Tuition
Summary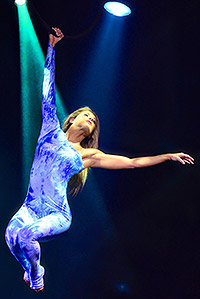 Service Type
Provider Name
Blue Planet Entertainment
,
Level 10, 440 Collins St,
,
Melbourne
,
Victoria
-
3000
,
Telephone No.1300 738 735
Area
Description
Elise is trained in Aerial Silks, Aerial Ring, Spanish Web, Static Trapeze, Aerial Rope and Bungee