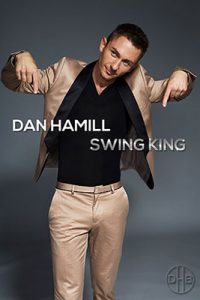 Dan Hamill Swing King
Along side the DAN HAMILL BAND, Dan gets back to his roots where he takes on the Jazz classics you know and love…. X-Factor heralded
Dan 'THE KING OF SWING' in 2016 with Chis Isaak quoting: 'When I hear you, I hear Sinatra!' and leaving James Blunt gobsmacked saying 'You can out Buble' Buble'!'
There is quite simply no better sounding, 'smoking hot' young man in Australia at this style…
Starting as a 4 piece onwards, and having travelled internationally with this act, Dan is sure to give your evening the right lever of sophistication, mixed with some
cheek and a little twist to ensure an event you will never forget.
Having been a top 10 finalist on two of Australia's biggest reality singing shows – there's a reason why Molly Meldrum says 'Dan you just goes out there and slays us all!'
The X Factor Australia's mentor James Blunt said of Hamill "He just lit up the audience, he lit up the stage"… "What a performer, that's what I call X factor, that's my definition of it… " said Chris Issak.
As well as being a leading aussie frontman, Hamill is also an accomplished actor. Recently staring opposite Guy Pearce in 'Jack Irish.' His other Television credits include,
'House Husbands', 'Neighbours', 'Dr Blake Mysteries', 'City Homicide', 'The Broken Shore', 'Hard Rock Medical' and 'Shezow.' As well as his musical debut in the role of 'Action' in the Australasian tour of 'West Side Story.'
Check Out Dan's Live Video!
Dan Hamill Swing King – FEEDBACK
"Daniel is very… very good."
SEYMOUR STEIN: Founder of Sire Records (discovered Madonna), the Ramones.
"Wow. What is it about how comfortable you look in your own skin? You just stand there, you look so relaxed and this beautiful voice just comes out. I want to take you and put you in a box by my daughter's cot and when its time for sleep, open it up and you sing her a lullaby. You're just lovely, Unbelievable… We love you…"
CHRISTINE ANU
"Daniel, you are a 'brilliant singer', I don't know where you get it from. You go out there and you lay it down and just slay us all. Fantastic mate! I reckon you have a fantastic voice…."
MOLLY MELDRUM
"Daniel, you've got an amazing voice. You have one of the best voices amongst us. You walk down and you command the stage…"
TREVOR STEELE: Lead singer of THE ESCAPE CLUB ('Wild Wild West') Writer for UNIVERSAL RECORDS.
"Dan Hamills band was just what was required for the beginning of the night Dan has a great rapport with the guests and warms them up to a full and energetic dance floor."
JOHN SHORE
Director
RAY WHITE
"Dan was sensational and we appreciate your putting forth the suggestion to book him. He really added to the spot on the night and filled a gap that has previously been missed. I hope to see some more of his work in the future and use him again.Thanks so much."
KAREN DONOVAN
VISY
'A BIG THANKS to the DAN HAMILL EXPERIENCE for being so AWESOME on Friday night! Talk about put on a great show – they performed beyond expectations. It was an honour to have them all on this event, Dan and the band were all true professionals. How great was it to see celebrities and guests letting their hair down and kicking their heels up! Dan and his lineup helped to create such fun on the dancefloor! We sincerely thank you and can't wait to work with you again…'
Jaci Testro
RONALD McDONALD CHARITY BALL (Crown Palladium)
Summary
Service Type
Book Dan Hamill King of Swing
Provider Name
Blue Planet Entertainment
,
Level 9, 440 Collins Street
,
Melbourne
,
Victoria
-
3000
,
Telephone No.1300 738 735
Area
Description
Book Dan Hamill Swing King with Blue Planet Entertainment in Melbourne and Australia-Wide