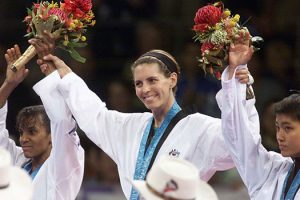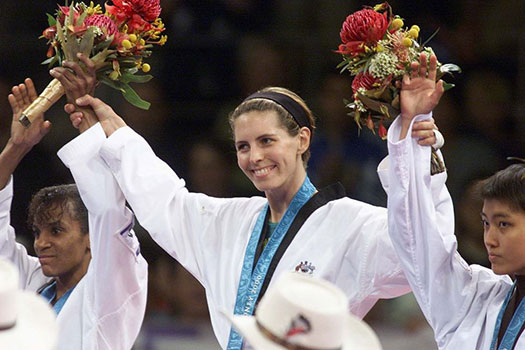 Lauren Burns is an Olympic Gold Medalist, defeating all odds when she took to the podium in first place at the Sydney 2000 Olympics. A memorable moment for all Australians, Lauren is an inspiration showcasing her passion and hard work to achieve her goals.
A Taekwondo expert, Lauren now shares her success through keynotes and workshops.
Lauren Burns showcased Taekwondo sport
…when making its debut at the Sydney 2000 Olympic Games. Lauren was one of only three Australian women to win an individual Olympic Gold Medal, along with Cathy Freeman and Susie O'Neill. Her amazing triumph at the Sydney Games was achieved against the odds – requiring enormous discipline, commitment, perseverance and teamwork.
The nation watched as Lauren's victory brought the Australian public and Olympic crowd to its feet. Before her Olympic win, few people knew that Lauren had been 12 times Australian Champion and had achieved a string of international titles including numerous medals at world championship level. Lauren's gold medal has put Australia on the map as a major international competitor for the sport of Taekwondo.
Since the Sydney Olympics, Lauren has emerged as one of the most successful Olympians from these Games. She is one of Australia's most sought after speakers and has spoken to over 200,000 people since these Games. Lauren continues to travel the country conducting presentations, workshops and corporate health programs.
Lauren enjoys a variety of commitments; she is the mother of 2 beautiful children, she is involved with Red Dust Role Models, conducting healthy lifestyle clinics in remote Aboriginal, Fijian & Indian communities. She is a director on the board of her parents charity Appin Hall Children's Foundation and practices as a naturopath in Northcote.
Lauren's autobiography, Fighting Spirit was listed in the Sydney Morning Herald as the number one bestselling sports book.
She has recently released and self-published her latest book Food from a Loving Home, a collection of vegetarian recipes. This book is a sharing of Lauren's favourite recipes, her knowledge about creating tasty wholesome and exciting meals along with home remedies and kitchen cupboard cures using ingredients found in any kitchen.
Workshop
An excellent way to kick off or finish a conference with the high energy and sense of achievement of all participants breaking boards.
Lauren shares inspirational stories and experiences relating them to the audience – she conveys key messages relating to self-belief, passion, determination vs natural talent, self-talk and strategy and studying your opponents.
Workshop includes:
Simple, but high energy taekwondo moves
Focus on fun, teamwork, practical skills and key messages
All participants breaking boards
Signing of participants' boards as take home memento
Lauren Burns Testimonials
"Your inspirational message to our guests was first class and really sealed for us a great night of recognition, for the top achievers in our Dealer network. I know that our people will benefit from your experience and can only hope that some of them can 'dare to dream', and achieve just as you have done."
Mercedes-Benz
Excellent. Lauren did an exceptional job inspiring and captivating 360 of our young assistant managers at this year's conference. She had each and every one of us enthralled in her experiences and was great that it was also interactive where she got every one up screaming! (not to mention actually touching an Olympic Gold medal!) We loved her and would use her again in a heartbeat should the need arise as she really suited the theme of our conference being "Build the core and go for more".
Yum Restaurants International
"Lauren Burns's presentation was just fantastic! Exciting and uplifting. She had obviously listened closely to our brief and her talk enhanced the theme of our conference. She was able to win over the hard-bitten experienced pros amongst our sales team as well as inspire us all to achieve more through dedication, passion and unwavering self belief! Her presentation style was warm, with simple, easy to grasp messages on success in professional and personal endeavours. Highly recommended!"
Metricon Homes Pty Ltd
"Excellent, Lauren's energy was intoxicating. Our guests were mesmerised."
PriceWaterhouseCoopers
"Excellent… I think every male in the room fell in love that night. Lauren Burns's appearance made this conference a total success. Just a few comments I received from some of our guests that night: 
 Excellent; a great inspiration; best conference ever because of Lauren's presentation; what a lovely girl; best speaker I have ever listened to. One guy had fruit in the morning instead of eggs and bacon and when I asked him why, he replied that he wants to change his life-style after he listened to Lauren. In other words, everybody was blown away and some people had tears in their eyes when they watched Lauren's movie."
Euroag Pty Ltd
"Lauren Burns was absolutely sensational"
BHP
"Excellent. Lauren has an outstanding story to tell and is generous with her medal, autographs, photographs etc. I strongly recommend her."
ANZ Bank
"Excellent, Lauren and the crew were simply excellent. She provided a great way to close our event with the sounds of around 800 people breaking and then clapping boards. It was a great thrill for all."
John Danks & Sons Pty Ltd
More Speaker options for your event
Blue Planet Entertainment have a fantastic range of speakers from sporting and business worlds who can set the tone for your event and deliver a talk that's both entertaining and memorable. If you are looking for a keynote speaker, sports speaker, motivational speaker, celebrity speaker, lifestyle speaker, business speaker conference facilitator, MC or for something completely different, you are in the right place.
Blue Planet Entertainments professional approach to each inquiry means that you get that best service possible. We work with you to make sure you engage the perfect speaker to suit your experience and budget
Through the excellent service we provide, Blue Planet Entertainment are working with some 'Great Australian' companies on an ongoing basis.
Call us on 1300 738 735 to discuss your next event speaker!!
Check out more great entertainment options at Blue Planet Entertainment TV!!
Summary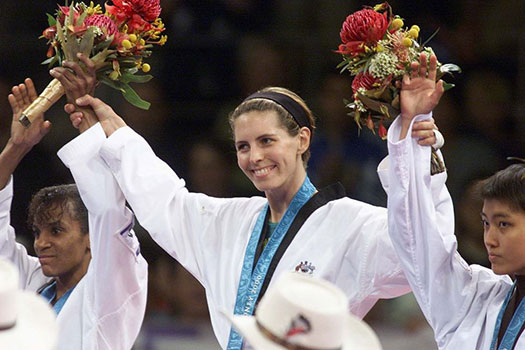 Service Type
Lauren Burns Inspirational Sports and Motivation Keynote Speaker Hire
Provider Name
Blue Planet Entertainment
,
Level9,440 Collins St
,
Melbourne
,
Victoria
-
3000
,
Telephone No.1300 738 735
Area
Description
Lauren Burns is an Olympic Champion and Inspirational Sports and Motivation Keynote Speaker