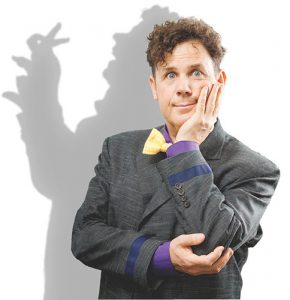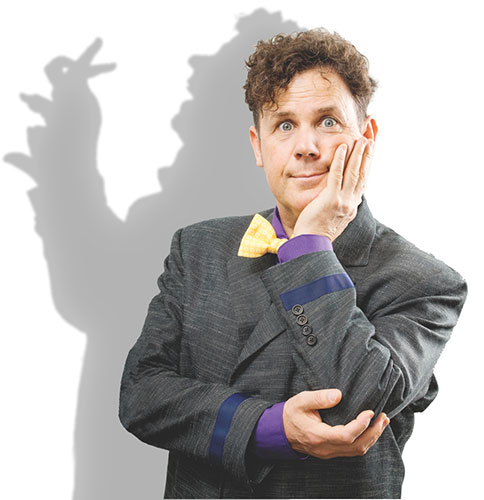 Raymond Crowe is called THE UNUSUALIST for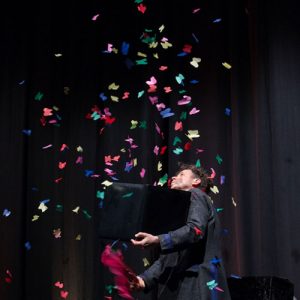 good reason – there is no other performer like him.
Originally from Australia; Raymond has charmed audiences all over the world.
For Those Not In The Know The Original Unusualist Is A Master Of Intricate Hand Shadow Puppets, Ventriloquism, Physical Comedy, World Class Illusion And Brilliant Audience Participation.
His amazing signature Hand Shadow piece performed to the Louis Armstrong classic "What a Wonderful World", a global YouTube sensation that has now been seen by an estimated 200,000,000 people.
Raymond's performances include the UK's Royal Variety Performance in front of the Queen, Sunday Night at The London Palladium, UK. The Illusionists Live On Broadway, NY. NBC's The World's Greatest Magic and The Late Show with David Letterman.
In his own back yard, Raymond is a highly respected artiste who was a Grand Finalist on Australia's Got Talent. In addition to regularly performing his own popular shows, Raymond is also a highly sought-after entertainer for corporate events, functions and prestigious overseas shows such as The Illusionists -The Planets Largest touring magic show.
Why The Unusualist is so popular for corporate events:
Unique – audiences have never seen anything like it. He creates wonderment, entertains, energises and moves people.
Clean comedy – witty, charming and non-offensive; it's a stylish performance suitable for all ages and types of people.
Interactive – brilliant for creating audience participation and high engagement.
Versatile – Raymond can tailor his act to suit any occasion such as a product launch, award ceremony, conference, Christmas party or gala night; and is just as comfortable performing in an intimate venue as he is to an audience of thousands.
Easy to work with – professional and friendly, he also doesn't require any complicated AV requirements
World class act – an iconic performance from a well-known entertainer; Raymond is sure to impress any employee, client or guest.
Watch Raymond's Promotional Video!
Testimonials:
SOME CLIENT FEEDBACK
"Excellent / OUTSTANDING Raymond Crowe yet again thrilled our guests and set the tone for the whole event. There was much laughter, great inspiration and a standing ovation – and this is at a gala black tie dinner, not in a theatre! I continue to be impressed with Raymond's ability to engage with various audience levels – he is intelligent, humorous, talented, gracious and a pleasure to work with. If only I had an event each week, I would hire him each week and never tire of watching the expression on my guests' faces as they marvel at his talent, laugh at his wit and feel inspired and uplifted by his true gift to entertain!"
Brand Architects
"Excellent. Both our local guests & overseas guests really enjoyed Ray's performance – particularly the audience participation. The closing shadow puppets also went down well with the guests & was an uplifting finale."
Normans Waterhouse Solicitors
"Excellent…A flawless performance. Definitely a major highlight of our conference – tears of laughter, not a dry eye in the house"
Amcal
"Excellent. Was asked to do two encores. Unique, funny and very entertaining."
Whirlpool
"Excellent. Ray is extremely talented and he performed brilliantly"
John Danks
"Excellent, Excellent, Excellent, Ray had everybody in fits of laughter."
NEC
"Excellent. Everybody just raved about his act. Helped end the conference on a 'Real' High."
Top Tourist Parks of Australia Ltd
"Excellent. Very professional. Great audience participation. Definitely not your standard magician. Standing ovation."
travel.com.auREAD MORE...READ LESS
"Excellent. Worked the crowd very well and the feedback from the audience was very positive – made our event."
Melbourne Business Awards
"Excellent. Raymond was brilliant. He certainly impressed the guests we were trying to impress. Captivating show and absolute showman."
VIP Services Manager
"Excellent. Ray's performance was fantastic, will definitely recommend him in future."
The Mint Organisation
"Excellent. The best we have had for our annual awards."
Sustainable Energy Authority
"Excellent. Ray Crowe received outstanding feedback from all viewers and was the main topic of discussion for the remainder of the night."
Savings & Loans Credit Union (SA) Limited
"Excellent. An amazing response from probably the toughest audience possible."
Le Meridian
"Excellent. Standing ovation from a tough audience of 80 CEO's."
The Heart Research Institute
"Fantastic! Ray's multi-faceted act catered to everyone's tastes. We have received nothing but excellent feedback."
Synergy Operating Systems
"Excellent in every way, perfect for a mixed audience, everybody loved him, clients are still talking about him a week later."
Patterson Cheney Trucks
"Excellent. The best entertainer we have had. He received a standing ovation, something I have not seen before at our lunches."
APN Newspapers
"Excellent. Raymond Crowe is one of the most entertaining performers that you can confidently know will please an audience. A guaranteed crowd pleaser and someone you want to use again and again and again."
The Production Place
"Excellent. Ray had a tough gig, coming on at 10.30pm, but almost immediately had the audience enthralled. Many of the audience commented on Ray's variety and everyone remembered a different highlight. First class!."
Honda MPE
"Excellent. Ray is much-loved by each audience who experiences his extraordinary show"
Perform Arts
"Excellent. Very funny, appealed to everyone's taste, everyone enjoyed it thoroughly."
AWI
"Excellent. The customers enjoyed the act very much."
NDC Ltd
"Excellent. Ray captured the audience and had them crying with laughter and gasping in amazement. Was just what we needed."
Kangaroos Football Club
"Excellent. A tough challenge at 10.00 p.m. after a long day. Ray had the whole room in the palm of his hand. Extremely funny and entertaining."
Dennis Family Corporation.
"Excellent. Talked about Ray for days after. That's a hard act to follow."
Dick Smith Electronics
"Excellent. Something different, related fantastically well with our audience. A great response from everyone. Thank-you."
Port Adelaide Football Club
"Excellent. Fantastic!! He combined magic, mystery and comedy I've never seen before. The audience participation factor made us feel a part of the act."
Scaffidi Pharmacy Services
"Excellent, fantastic, amazing, truly clever. He was brilliant and made our staff party fantastic."
Mallesons Stephen Jaques
"Excellent. Ray is not a magician – he is a total entertainment package – one of the funniest acts I have seen."
SAPRO Conference Management
"Excellent, fantastic, original, talented and very funny!."
Cadbury Schweppes
"Brilliant. The feedback from the group has been all positive – had his audience from the word go."
National Foods
"Excellent. Outstanding Performance."
Victoria Golf Club
"Excellent. Outstanding, the act is indescribable and yet outstanding."
APPEA Limited
"ExcellentRay very skillfully engaged our 650 person audience, providing visually effective and top quality entertainment. The Wonderful World finger puppet show was an outstanding favorite."
Reflecting Images
"Ray Crowe is a true professional who entertains from the minute he steps on stage. I like the way he gets the audience involved from the start. Highly entertaining and good variety performance making you wonder what is coming next "
CRT Town & Country
"What a refreshing entertainer. After a long day of power-point presentations and various business speakers, Ray gave everyone the opportunity to laugh out loud. His work with the audience (well a couple in particular) was fantastic – fun, clean and so entertaining. The shadow puppetry at the end was absolutely mind-blowing – what a Wonderful World! Put simply, Ray was awesome"
Sensis
Excellent, absolutely Fantastic. The best one man entertainer we have ever had, we had 350 delegates crying with laughter, just so unique. Highly recommend – if you are wanting to kick off your event with something different Ray Crowe is certainly it!
NSW Minerals Council
Excellent, Ray's performance was exceptional. His mixture of humour, magic and charm captured the spellbound the audience.
Eclipse Sports Management
As usual great performance, we have been running this event for 14 years with a variety of comedians and speakers, many repeat guests, many comments "best ever".
S.A. the Childrens Charity.
"Raymond is an extremely talented performer and really involves the audience, which is what we wanted."
Zeacom
"EXCELLENT – we used him to open our Gala Awards Dinner and the attendees were raving about him – he was brilliant – a true professional and I would highly recommend him for this type of function."

More great entertainment options for your event!
Blue Planet Entertainment have a fantastic range of Corporate Event Entertainment and Wedding Entertainers that will set the tone for your event and deliver an entertaining, engaging and memorable performance. If you are looking for an Acoustic Duo or Trio, a Cover band, a Jazz Band, a Wedding Band or Entertainment for your Corporate Event, you are in the right place.
Blue Planet Entertainments professional approach to each inquiry means that you get that best service possible. We work with you to make sure you engage the perfect Entertainment to suit your experience and budget
Through the excellent service we provide, Blue Planet Entertainment are working with some 'Great Australian' companies on an ongoing basis.
Call us on 1300 738 735 to discuss Entertainment Options for your next event!!
Check out more great LIVE entertainment at Blue Planet Entertainment TV!!
Summary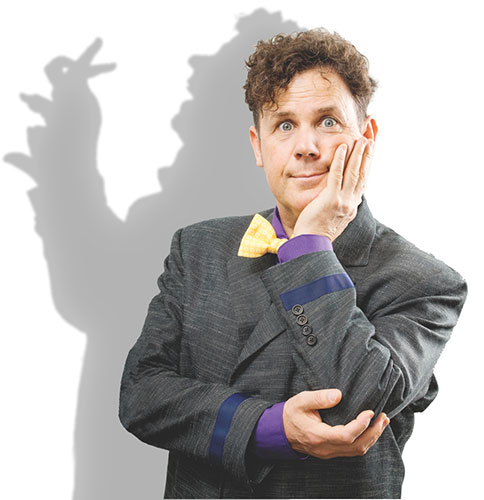 Service Type
Raymond Crowe - The Unusualist
Provider Name
Blue Planet Entertainment
,
Level 10, 440 Collins St,
,
Melbourne
,
Victoria
-
3000
,
Telephone No.0418364728
Area
Australia Wide and International
Description
Raymond Crowe Is A Master Of Intricate Hand Shadow Puppets, Ventriloquism, Physical Comedy, World Class Illusion And Brilliant Audience Participation.